TELCO COMPLAINTS REACH MULTI-YEAR LOW

Sydney, 4 November 2021 – Communications Alliance welcomes today's report by the Telecommunications Industry Ombudsman that complaints to the Ombudsman have gone down for the fourth quarter in a row.
The Ombudsman has recorded the lowest number of complaints for a quarter since numbers became available by quarter, in 2017.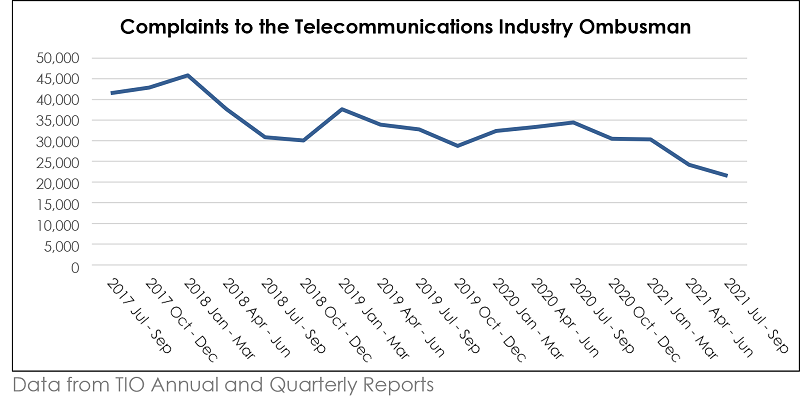 Complaints have reached – at minimum – a four-year low. Complaint volumes fell by 37 per cent compared to the same period in 2020.
Communications Alliance CEO John Stanton said, "This is a result of hard work by telcos to provide better customer service. Telcos have worked on improving their processes, so problems don't arise in the first place, and on helping customers more quickly if there is an issue, so the customer doesn't need to approach the Ombudsman for assistance."
"Australia's telecommunications industry is providing excellent connection for good value, and consumers are well served by the Industry's Telecommunications Consumer Protection Code, enforced by the regulator."
"We know there have been some concerns about rising rates of complaints from small businesses, but it was very pleasing to see that complaints from small businesses fell almost 27 per cent during the latest quarter. We will continue monitoring this area to see if there are any further actions that need to be taken to support small businesses."
ABOUT COMMUNICATIONS ALLIANCE

Communications Alliance is the primary telecommunications industry body in Australia. Its membership is drawn from a wide cross-section of the communications industry, including carriers, carriage and internet service providers, content providers, search engines, equipment vendors, IT companies, consultants and business groups.
The most influential association in Australian communications, co-operatively initiating programs that promote sustainable industry development, innovation and growth, while generating positive outcomes for customers and society. To create a co-operative stakeholder environment that allows the industry to take the lead on initiatives which grow the Australian communications industry, enhance the connectivity of all Australians and foster the highest standards of business behaviour. For more details about Communications Alliance, see
www.commsalliance.com.au
.
Media information contact:
Sefiani
Neeley Williams nwilliams@sefiani.com.au
0434 742 551