TELCO COMPLAINTS FALL SHARPLY DURING COVID

Sydney, 19 October 2021 – Complaints to telcos dropped significantly despite the challenges presented by lockdowns in Australia and other countries during the pandemic, according to new data released by the Australian Communications and Media Authority (ACMA).
Communications Alliance CEO John Stanton said, "It's pleasing to see that complaints made directly to telcos dropped 18.2% in the last year and 35.5% compared to two years ago – this is a sustained and significant decrease in complaints and shows the ongoing efforts of providers to improve customer service."
This data is in line with the recent report of decreased complaints to the industry Ombudsman over the past year and is all happening against a backdrop of increased use of services and increased affordability.1
While the average time to resolve across the full year increased slightly, the quarter-by-quarter data shows that there was a significant uptick during the September quarter last year – largely due to challenges presented by the pandemic - and the average time to resolve has decreased since then.
Additionally, the ACMA raises a concern about the rate of escalation of complaints to the Ombudsman, but escalated complaints have in fact decreased by 11.6% over the past two years and 6.7% in this year.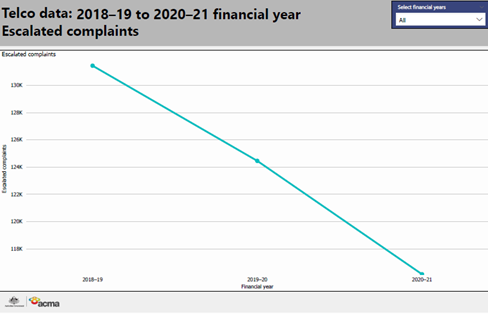 Comms Alliance media release 22 Sep 2021
"With the significant decrease in complaints, it is likely that simple issues are being resolved before they become a complaint. This would mean that customers are getting faster responses on straightforward queries, and complaints are focused on more complex issues that may naturally take more time to resolve. This could also be behind the very small – 1.4 percentage point – increase in the escalation rate."

"As always, industry will use this data to further improve customer experience, while continuing to roll out new and improved services to keep Australians connected," concluded Stanton.

ABOUT COMMUNICATIONS ALLIANCE

Communications Alliance is the primary telecommunications industry body in Australia. Its membership is drawn from a wide cross-section of the communications industry, including carriers, carriage and internet service providers, content providers, search engines, equipment vendors, IT companies, consultants and business groups.
The most influential association in Australian communications, co-operatively initiating programs that promote sustainable industry development, innovation and growth, while generating positive outcomes for customers and society. To create a co-operative stakeholder environment that allows the industry to take the lead on initiatives which grow the Australian communications industry, enhance the connectivity of all Australians and foster the highest standards of business behaviour. For more details about Communications Alliance, see
www.commsalliance.com.au
.
Media information contact:
Sefiani
Neeley Williams nwilliams@sefiani.com.au
0434 742 551