INDUSTRY WELCOMES SHARP FALL IN COMPLAINTS ABOUT TELCO CONSUMERS IN FINANCIAL HARDSHIP

Sydney, 1 September 2021 – Communications Alliance welcomed today's TIO report showing a 41% decrease in complaints about financial hardship over the past three years.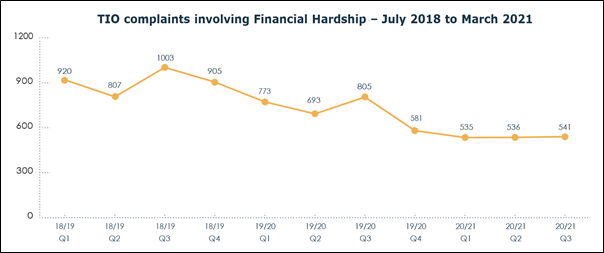 John Stanton, CEO Communications Alliance said "This is a timely reminder for all of us to ask for assistance if needed. Please contact your provider about a financial hardship arrangement if you are having any challenges with paying your bills, and they will work with you."

Per the TIO's report, Stanton also reminded customers "when you come to an agreement, ask for that information in writing."
The ACMA-enforced Telecommunications Consumer Protections (TCP) Code sets obligations on all telcos about Financial Hardship arrangements, including that customers must be told they can ask for arrangement information in writing, and if they confirm they would like that, their telco must give them that information.
Mr Stanton continued, "Telcos have worked hard to improve their financial hardship assistance, as witnessed by the decrease in complaint rates over the last 3 years. However, we can still do better. Customers should be able to easily access assistance that works for them. Telcos have important obligations under the TCP Code to offer fair and timely financial hardship assistance, and we encourage all telcos to ensure they are providing easy access to help. Communications Alliance welcomes the improvements made by telcos based on the TIO's recommendations. "
Communications Alliance supports the TIO's key kips for consumers:

Tell your provider early that you may need assistance
Ask your provider to send you information about hardship
Explain what you can afford and why
Be realistic about what you can and cannot afford
When things change, tell your provider
Ask if your provider has staff who specifically deal with financial hardship
Request your financial hardship arrangement in writing
Mr Stanton concluded "Financial Hardship assistance is important to get right. There are extensive rules in the TCP Code and the industry regulator, the ACMA, reports annually on this topic. While we welcome the TIO's insights, we would like to see more coordination between the TIO and the ACMA on this and other topics, to ensure resources are being used efficiently and avoid duplication. Consistency between the ACMA and the TIO is also important to provide a clear set of standards and processes for customers."

FURTHER INFORMATION ON FINANCIAL HARDSHIP ASSISTANCE
Chapter 7 of the regulator-enforced Telecommunications Consumer Protections (TCP) Code is dedicated to financial hardship assistance.
Among other requirements, Retail Service Providers (RSPs) must offer a minimum of three of the below options to help keep residential and small business customers connected:
Spend controls;

Restriction of service, in respect of overall or specific services;
Transferring the Customer to a Pre-Paid Service;
Transferring the Customer to a contract which includes hard caps or Shaping; or
Low cost interim options until the Customer can continue with original payments.
and a minimum of three of the below options for suitable financial arrangements:
Temporarily postponing or deferring payments (for a longer period than would typically be offered to Customers requesting an extension outside of Financial Hardship arrangements);
Agreeing on an alternative arrangement, plan, or contract, including discussing Pre-Paid Services;
Discounting or waiving of debt;
Waiving late payment fees;
Waiving cancellation fees; or
Incentives for making payments, for example payment matching.

Applications for assistance must be assessed in a fair and timely manner.
Many providers also offer a simple option for a customer to 'pause' their payment for a month, and Chapter 6 of the TCP Code also contains strict rules on how and when a provider can suspend a customer's service.

ABOUT COMMUNICATIONS ALLIANCE

Communications Alliance is the primary telecommunications industry body in Australia. Its membership is drawn from a wide cross-section of the communications industry, including carriers, carriage and internet service providers, content providers, search engines, equipment vendors, IT companies, consultants and business groups.
The most influential association in Australian communications, co-operatively initiating programs that promote sustainable industry development, innovation and growth, while generating positive outcomes for customers and society. To create a co-operative stakeholder environment that allows the industry to take the lead on initiatives which grow the Australian communications industry, enhance the connectivity of all Australians and foster the highest standards of business behaviour. For more details about Communications Alliance, see
www.commsalliance.com.au
.
Media information contact:
Sefiani
Neeley Williams nwilliams@sefiani.com.au
0434 742 551