---
2021 ACOMM Award Winners Announced

Telecommunications sector icon, Mr Gary Smith, has taken out the Australian communication industry's most prestigious accolade; being awarded the title of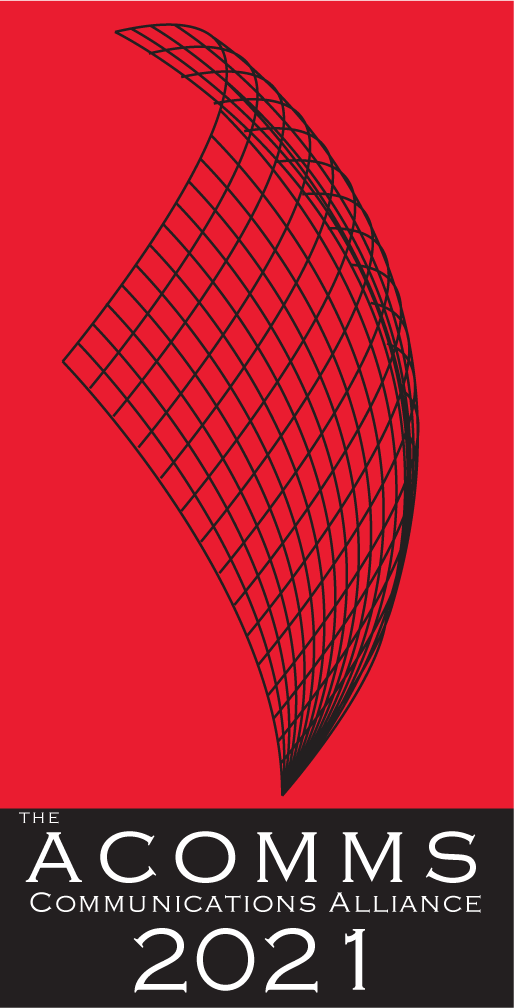 Communications Ambassador 2021 at this year's ACOMM Awards.
The winners of the prestigious 2021 Communications Alliance Awards were announced at the 15th Annual ACOMM Awards Dinner on 18 November in Sydney. The evening's keynote address was delivered by the Hon. Paul Fletcher, Federal Minister for Communications, Urban Infrastructure, Cities and the Arts.
The individual category awards were taken out by a star-studded line-up of Australian service providers - featuring a mix of long-established players and new faces.
In a storied career spanning more than three decades in the industry, Mr Smith has made leading contributions to regulatory agendas and frameworks which support industry performance and good customer outcomes.
Gary has led industry activities through his positions on multiple Boards, reference panels and working groups. From his time at AUSTEL, helping set the industry framework for de-regulation, to his 25 years at Optus and his roles on the TIO Board, TIO Council and Comms Alliance Board, to his involvement in the development of mobile porting arrangements, content blocking and take-down processes, and security-related industry rules, Gary's wisdom and guidance has been valued throughout the sector.
"Gary's contribution has been enormous. He personifies the qualities that the judging panel looks for in a Communications Ambassador and has been a source of regular and invaluable counsel for me, the Comms Alliance Board, our management team and industry colleagues more broadly," said Communications Alliance CEO, John Stanton.
"Highly respected by all stakeholders, Gary's constructive demeanour, his insight and logical approach have been instrumental in solving many of the challenges that industry has confronted in its quest for continuous improvement."
"The ACOMM Awards represent the pinnacle of achievement for the Australian communications industry and I congratulate all the winners and finalists in the 2021 ACOMMS,
"Excellence in innovation is a pervasive trait in the achievements of the 2021 ACOMM winners."
The winners of the 2021 ACOMM Awards are:

COMMUNICATIONS AMBASSADOR – Gary Smith

Innovation - Large Company - Optus: Donate Your Data™ - An innovative product that empowers customers to be able to make a meaningful impact in bridging the digital divide for young Australians in need by donating something that has become a vital ingredient in connecting to the world around us — data.
Innovation - SME – National Narrowband Network Company (NNNCo): N-Station, the Plug-and-Play, Portable LoRaWAN Gateway - The new NNNCo N-Station Portable Gateway Kit is part of NNNCo's brand new LoRaWAN 'Network in a Box', the NNN Now range. This offer can easily and quickly be deployed by industrial customers around the world to connect their devices or sensors to the Internet of Things and start unlocking new business cases by receiving valuable data within minutes!
Vendor Innovation – Ericsson: Ericsson's 5G Leadership & Innovation in Australia - Ericsson has delivered several technology innovations to help Australian operators build among the world's most advanced 5G mobile and FWAnetworks. Ericsson has helped Telstra, Optus, and NBN achieve ten world's first, including two world records in recent years, accelerating the rollout and adoption of 5G in Australia.
Commitment to Customer Service –Telstra: EME Education Campaign – Telstra's Chief 5G Investigator - Telstra's 5G Investigator was a content campaign designed to help customers and the wider Australian populace disregard the spreading misinformation and feel more comfortable with the deployment and application of 5G technology.
Services to the Industry, Professional Services – (joint winners) au.Domain Administration and Clayton Utz
au.Domain Administration: New rules to keep the .au domain trusted and secure - The auDA Compliance Team has overseen the implementation of a new licensing rules framework for the .au domain, working with the domain
name industry to promote compliance and ensure the .au remains secure,
accessible and trusted for the benefit of all Australians.
Clayton Utz: Legal Services - We are a leading Australian law firm with a national top-tier telecommunications practice. Our practice has unrivalled industry knowledge and we are at the forefront of current industry and regulatory developments. We work on some of the most complex, strategic and high profile projects, many of which have redefined the telecommunications landscape in Australia.

Best Mobile Solution – Soprano Design: Soprano Connect - Soprano Design, a global leader in CPaaS (Communications Platform as a Service), offers Australian companies a mobile solution to communicate with all of their customers' needs. During COVID-19, this service was adapted for the inclusion of communicating contact tracing, connecting hospitals and patients, and the vaccine rollout.

Community Contribution – Telstra: Supporting the nation through fires and pandemic - During 2020, Australia rolled out of one large-scale crisis into another, with months of unprecedented bushfires compounded by the disruption of the pandemic. These challenges highlight the importance of connectivity for all Australians & we're proud of our compassionate and continuous response. We stepped up in a big way for the nation in the last 18 months to help our customers, our people, and the country in a time of need.

Australian Space Industry Award – Vocus: Business Internet-Satellite - Our Business Internet-Satellite solution, developed with nbn, makes it easier and more affordable for enterprise, government, and wholesale to invest and operate in regional and remote Australia, bringing benefits for both businesses and the surrounding communities, and cements our position as a leading enabler of Australia's satellite industry.

Diversity and Inclusion – Aussie Broadband: "Inclusion first" program - Aussie's "Inclusion first" program focuses on real actions rather than words on paper, so that diversity and inclusion have become part of the company's DNA. It is not about any specific large project, but an absolute belief that it is the small things that make a bigger impact over time.

Sustainability – TPG Telecom: felix mobile: one tree planted - Differentiating itself from other telco brands in the market, felix launched with a pledge to plant one tree a month for every active customer, with a goal to plant 1,000,000 trees with the help of their customers.
Artificial Intelligence – Nokia: Nokia Scene Analytics - Nokia and City of Melbourne use AI to improve the city experience in Melbourne's iconic laneways.
---
Communications Alliance Welcomes TIO Recommendations to Protect Consumers Against Fraud

Communications Alliance welcomes the Telecommunications Industry Ombudsman's (TIO) recent report highlighting measures to help further protect phone and internet consumers and accounts from fraudsters.
The report also notes the suite of measures put into place by the telecommunications industry in recent years to combat fraud and scams, including:
the registered and enforceable Reducing Scam Calls industry Code;
ongoing work by Communications Alliance members to combat SMS-based scams;
the Existing Customer Authentication Industry Code, (recently submitted to the ACMA for consideration for registration); and
the industry's Mobile Number Pre-Porting Verification guideline, which was converted into a Standard in 2020.

Communications Alliance CEO, John Stanton said, "We welcome the TIO engaging with this topic. Combating the rising scourge of scams and fraud is a challenge that requires all parties to be vigilant and to assist consumers where possible.
"Telcos are continually improving their practices to keep up with the ever-changing tactics of fraudsters. It is important that we do not become complacent and remind our customers to protect their personal information, offline as much as online."

---
Proposed changes to the Infrastructure Record Keeping Rules
Communications Alliance has provided a submission in response to the ACCC's proposed changes to the Audit of Telecommunications Infrastructure Assets - Record Keeping Rules (Infrastructure RKR). The submission highlights a number of provisions which would create significant additional regulatory burden and likely conflicts and risks with security and confidentiality requirements, without a clear benefit. These include the provision of information on the location of the end-user's end of the customer access network and the provision of a single individual file representing the national geographic extent of their networks.

Our satellite services members also recommend that satellite service providers should not be included in the list of record-keepers, as it will result in unnecessary replication of reporting and does not take into account such aspects as the mobility and ubiquity of the user terminals.

---
New Member
Communications Alliance is pleased to welcome the following new member:
| | |
| --- | --- |
| Lockheed Martin Australia | We build satellites and spacecraft that do amazing things in space for government and commercial customers. Lockheed Martin-built satellites give earlier warning of severe weather, connect troops on the battlefield, and deliver GPS directions to a billion people worldwide. As we look to the future, we're driving innovations to help our customers do even more in orbit. That's why we're designing smarter satellites that operate like smartphones in the sky, with apps that can be updated in orbit so they can adapt as mission needs on the ground change. Your mission is ours. And as that mission evolves, we'll be ready. |
---
Current Consultations
Below is a list of currently open telecommunications-related consultations being conducted by Government and other organisations that provide an opportunity for you to have your say.

Communications Alliance members interested in contributing to an industry submission (if one is being developed in response to a specific consultation) should contact us.