---
Industry Welcomes Sharp Fall in Complaints about Telco Consumers in Financial Hardship

Communications Alliance welcomed today's TIO report showing a 41% decrease in complaints about financial hardship over the past three years.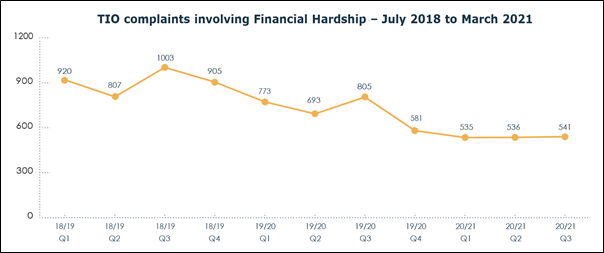 John Stanton, CEO Communications Alliance said "This is a timely reminder for all of us to ask for assistance if needed. Please contact your provider about a financial hardship arrangement if you are having any challenges with paying your bills, and they will work with you."

Per the TIO's report, Stanton also reminded customers "when you come to an agreement, ask for that information in writing."
The ACMA-enforced Telecommunications Consumer Protections (TCP) Code sets obligations on all telcos about Financial Hardship arrangements, including that customers must be told they can ask for arrangement information in writing, and if they confirm they would like that, their telco must give them that information.
Mr Stanton continued, "Telcos have worked hard to improve their financial hardship assistance, as witnessed by the decrease in complaint rates over the last 3 years. However, we can still do better. Customers should be able to easily access assistance that works for them. Telcos have important obligations under the TCP Code to offer fair and timely financial hardship assistance, and we encourage all telcos to ensure they are providing easy access to help. Communications Alliance welcomes the improvements made by telcos based on the TIO's recommendations. "
Communications Alliance supports the TIO's key kips for consumers:

Tell your provider early that you may need assistance
Ask your provider to send you information about hardship
Explain what you can afford and why
Be realistic about what you can and cannot afford
When things change, tell your provider
Ask if your provider has staff who specifically deal with financial hardship
Request your financial hardship arrangement in writing
Mr Stanton concluded "Financial Hardship assistance is important to get right. There are extensive rules in the TCP Code and the industry regulator, the ACMA, reports annually on this topic. While we welcome the TIO's insights, we would like to see more coordination between the TIO and the ACMA on this and other topics, to ensure resources are being used efficiently and avoid duplication. Consistency between the ACMA and the TIO is also important to provide a clear set of standards and processes for customers."

FURTHER INFORMATION ON FINANCIAL HARDSHIP ASSISTANCE
Chapter 7 of the regulator-enforced Telecommunications Consumer Protections (TCP) Code is dedicated to financial hardship assistance.
Among other requirements, Retail Service Providers (RSPs) must offer a minimum of three of the below options to help keep residential and small business customers connected:
Spend controls;

Restriction of service, in respect of overall or specific services;
Transferring the Customer to a Pre-Paid Service;
Transferring the Customer to a contract which includes hard caps or Shaping; or
Low cost interim options until the Customer can continue with original payments.
and a minimum of three of the below options for suitable financial arrangements:
Temporarily postponing or deferring payments (for a longer period than would typically be offered to Customers requesting an extension outside of Financial Hardship arrangements);
Agreeing on an alternative arrangement, plan, or contract, including discussing Pre-Paid Services;
Discounting or waiving of debt;
Waiving late payment fees;
Waiving cancellation fees; or
Incentives for making payments, for example payment matching.

Applications for assistance must be assessed in a fair and timely manner.
Many providers also offer a simple option for a customer to 'pause' their payment for a month, and Chapter 6 of the TCP Code also contains strict rules on how and when a provider can suspend a customer's service.

---
NBN Download Speeds Improve and More Plans Hit Maximum Speeds

The ACCC's quarterly Measuring Broadband Australia report, released today, has shown fixed-line NBN broadband delivering record high speeds again. It also shows the result of hard work by nbn and RSPs to keep Australians connected through COVID, with sustained high speeds throughout the pandemic.

---
TIO Guidance for Customers Impacted by Family Violence

Communications Alliance welcomes the TIO's publication of guidance on remedies and assistance for telco consumers experiencing family violence. It provides information on what type of options could be available in cases where there is financial hardship, economic abuse, privacy or safety issues and technology facilitated abuse.

---
Vale Professor Reginald Coutts

Communications Alliance Members and Management were saddened to hear this week of the passing of Professor Reg Coutts.

A notable fixture in the industry over the past four decades, Reg was a long-time Comms Alliance Member, a good friend and one of those instrumental in the establishment, a decade ago, of the CA Satellite Services Working Group (SSWG), which has grown to become an influential voice in the telecommunications satellite sector.

Reg made contributions on many fronts – helping create Telecom Mobiles in the 1980s; undertaking important research and development work at Telecom Research Labs (TRL); serving as an expert adviser to Government on the founding of the NBN and advocating strongly for telecommunications consumers and the industry more generally through a number of industry associations, including Communications Alliance.

Our condolences go to Reg's family. Reg will be sorely missed.

---
Current Consultations
Below is a list of currently open telecommunications-related consultations being conducted by Government and other organisations that provide an opportunity for you to have your say.

Communications Alliance members interested in contributing to an industry submission (if one is being developed in response to a specific consultation) should contact us.