---
Radiocommunications Charges Determination Amendment

The Communications Alliance Satellite Series Working Group (SSWG) provided a submission to the ACMA concurring with the proposed updates to the Radiocommunications (Charges) Determination 2017. With the introduction of the Radiocommunications Legislation Amendment (Reform and Modernisation) Act 2020, the Determination has been amended to ensure that current charges related to the accredited persons scheme continue to apply.
---
New Member
Communications Alliance is pleased to welcome the following new member:
Twitter


www.twitter.com

Twitter is an open service that's home to a world of diverse people, perspectives, ideas, and information.

---
Digital Infrastructure: Why it matters for your business - 22 April 2021

Communications Alliance is partnering with the Australia Latin America Business Council (ALABC) on an upcoming digital event titled "Digital Infrastructure: Why it matters for your business". (Please see the live link for the list of speakers and registration details).

The webinar will discuss the Asia-South America digital gateway - a submarine cable connecting Chile, New Zealand and Australia - plus the 5G networks rolling out across the Latin American region.

The initiative is designed to enable the technology to be deployed in regional areas, providing opportunities for data driven businesses and especially benefiting mining, agtech, fintech, medtech companies and organizations offering IOT and AI-enabled solutions in Chile, New Zealand and in Australia.

Areas of discussion will also reveal opportunities for students, academics and researchers to develop applications related to the technology; carry out analysis of systems and equipment in their laboratories and studies on spectrum bands for 5G.

This webinar will take place on Thursday 22nd April at 8:30am (AEST) via an online webinar platform. The webinar platform being used also has real time language interpretation capabilities between English and Spanish so that viewers can toggle between listening to speakers in either language.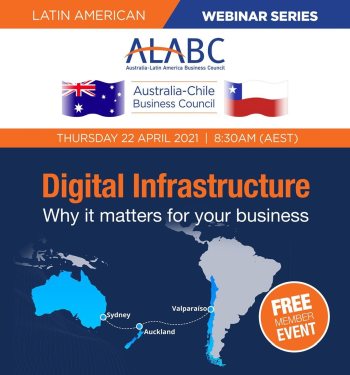 ---
Privacy Awareness Week - 3 to 9 May 2021

Privacy Awareness Week is an annual event that highlights the importance of protecting personal information and helps organisations, agencies and the public navigate the privacy landscape.
For further information click here.