---
2020 ACOMM Award Winners Announced
The 14th Annual Communications Alliance ACOMM Awards took place in a Virtual Showcase event on 10 September, featuring keynote addresses from the Federal Minister for Communications, Cyber Safety and the Arts, The Hon. Paul Fletcher MP and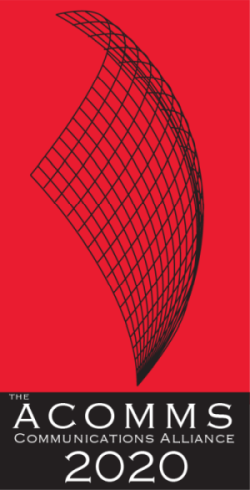 the Shadow Minister for Communications, Michelle Rowland MP.
The individual category awards were taken out by a star-studded line-up of Australian service providers - featuring a mix of long-established players and new faces.

The Managing Director of Aussie Broadband – Mr Phillip Britt – has taken out the Australian communication industry's most prestigious accolade; being awarded the title of Communications Ambassador 2020 at this year's ACOMM Awards.
Mr Britt, a youthful industry veteran who founded his first internet service provider (ISP) at the age of 18, took out the top award, for his sustained and meritorious commitment to competition and contribution to the development of the Australian telecommunications market - including his achievement in transforming Aussie Broadband from a small regional-focused business into a dynamic and high quality national ISP.
"Phillip is the personification of the qualities that the judging panel looks for in a Communications Ambassador," said Communications Alliance CEO, John Stanton.
"Phillip has demonstrated unwavering commitment, above all else, to the interests of his customers and the welfare of his rapidly growing team of employees,
"He is technically savvy, a fierce competitor and sits at the forefront of industry innovation in this country."
"The ACOMM Awards represent the pinnacle of achievement for the Australian communications industry and I congratulate all the winners and finalists in the 2020 ACOMMS,
"The judging panel was particularly impressed by the compelling nominations in two award categories that are new in 2020 – recognising excellence in Sustainability and in Diversity & Inclusion.
"Excellence in innovation is a pervasive trait in the achievements of the 2020 ACOMM winners."
The winners of the 2020 ACOMM Awards are:
COMMUNICATIONS AMBASSADOR – Phillip Britt

Innovation - Large Company - Vocus for their Coral Sea Cable System has delivered a faster, more affordable, and reliable infrastructure to the people, businesses and governments of PNG and Solomon Islands.
Innovation - SME – Beam Communications for their ZOLEO Global Satellite Communicator, which delivers messages through satellite, mobile and Wi-Fi to offer a seamless global messaging experience.
Vendor Innovation – Ericsson for supporting Telstra to deploy the world's first container-based EPC for 4G and 5G services.
Commitment to Customer Service – Aussie Broadband are in business to change the telco game, not just for their customers - but for all Australians
Services to the Industry, Professional Services – (joint winners) ECConnect and King & Wood Mallesons
ECConnect – for their Systemised Migration and Integration methodology helps their clients excel through the delivery of such projects, in a market experiencing an increase in consolidations and acquisitions.
King & Wood Mallesons – in an uncertain and changing environment, the KWM telecommunications team offers cutting edge and flexible services, focussing on clients' agendas, while embracing disruption.

Best Mobile Solution – Optus for their Optus 5G Home broadband, an innovative product offering from Optus which is providing customers with next generation internet connectivity.

Community Contribution – Southern Phone for their innovative 'hands on' Emergency Bushfire Response in the face of the devastating January bushfires.

Australian Space Industry Award – Myriota for their patented satellite IoT connectivity makes data accessible to everyone.

Diversity and Inclusion – Vodafone for their Code Next Program - a tailored, technology-centric course delivered by Vodafone to help young women expand their career horizons.

Sustainability – Belong for their Carbon Thumbprint App allows users to estimate the volume of greenhouse gas emissions resulting from their use of mobile data, arming them with the knowledge and confidence to make the best choices for our planet.
Visit the 2020 ACOMMS highlights video here. Media Release here.
---
New 5G Customer Equipment Requirements to be Developed

Communications Alliance has initiated a new project to develop a new Part 5 of the AS/CA S042 Requirements for Connection to an air interface of a Telecommunications Network Australian Standard, which will be specifying requirements for IMT-2020 (5G) mobile handsets and other 5G customer equipment. The work is to be carried out under the WC94 IMT-2020 Customer Equipment Working Committee. Further information on the project and how to submit an expression of interest to participate on the committee can be found at WC94 IMT-2020 Working Committee.
---