---
ACOMMS Awards 2020 - Winners Announced on 10 September 2020

Winners will be announced at the ACOMMS 2020 virtual showcase event, including keynote addresses by the Minister for Communications, Cyber Safety and the Arts, The Hon Paul Fletcher and the Shadow Minister for Communications, Michelle Rowland.

Save the date for this unmissable event! Further details on how to watch this free virtual event live will be available soon. www.acomms.com.au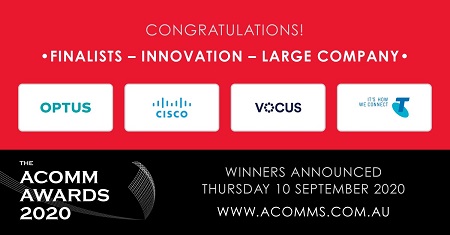 The ACOMM Awards are proudly presented by Communications Alliance. The MNF Group is the 2020 Title Sponsor of the ACOMMS, with Mirait Gold Sponsors, Bird & Bird, Bronze Sponsors and Cisco Digital Sponsor.

---
Communications Alliance Welcomes the Victorian Government Decision on Retails Outlets During the Stage 4 Lockdown

Communications Alliance has welcomed the Victorian Government decision to allow telcos to offer service to Victorian consumers and businesses through their network of retail outlets during the Stage 4 lock-down in that State.
The stores will operate strictly in accordance with a COVID-safe plan and on a "click and collect" basis.
Communications Alliance CEO, John Stanton, said the decision greatly reduces the risk of consumers in lock-down situations facing extended disruption to their connectivity.
"The Retail stores provide a key role in assisting the community with their ongoing communication needs, with a range of functions that are not easily dealt with via the phone and a parcel delivery service.
"Eighty per cent of customer engagement in stores at present is for existing customers who require technical support, repair, fault rectification etc., especially for the more vulnerable, less tech-savvy customer cohorts, including the elderly.
"Most handset problems are more easily dealt with in-store where telcos can assist with settings, some repairs and SIM swaps.
"Should a person's connectivity fail, it may be that face-to-face interaction is the only way to restore services. In order to prevent fraud, some customer transactions can only be accomplished in-store.

"Access to the services provided by the stores is also an element in the direct fight against COVID-19 – customers need an operating handset after being tested, so they can receive an SMS giving them their results.

"Some financial hardship arrangements and in particular domestic or family violence situations require in-store activity, especially where telcos are disassociating an end user service from a customer's account, in other cases such as where customers forget their PIN, or other identity information, telcos require an in-store process to ensure they are speaking with the right person, in order to take action on an account", Mr Stanton said.

---
Communications Industry Welcomes Australia's Cyber Security Strategy 2020

Communications Alliance welcomed the release of Australia's Cyber Security Strategy 2020 as an important step toward strengthening Australia's cyber security and online resilience across Government, small and large businesses, and the community at large.
The long-awaited Strategy contains a raft of measures, budgeted at $1.67 billion over 10 years, which are largely aimed at improving technical capabilities within Government agencies and businesses, and growing Australia's cyber security workforce. The Strategy's Action Plan also places a special emphasis on a generally heightened cyber security profile of the community and increased education around cyber security issues for Australian students of all ages.
"We commend Government for the planned measures to enhance existing collaboration between critical infrastructure sectors, by improving the sharing of threat data", said Communications Alliance CEO, John Stanton.
"We will engage with stakeholders to develop a clearer understanding of the details of the Strategy, such as the definitional aspects around "systems of national significance" and "critical infrastructure entities", Mr Stanton continued.
"Equally important is transparency around what Government intends where the strategy refers to potential "direct action" by Government to protect networks and systems in times of cyber crisis.
"Our industry is uniquely placed to understand the technical challenges and intricacies of our networks. Government needs to consult collaboratively with industry on these aspects, to ensure that the infrastructure our industry owns and operates so successfully remains actively and passively protected from cyber interference.
"It is important that any proposed new measures are built around principles-based outcomes, and are proportionate to the risks and circumstances in each sector, as outlined in the Strategy. Given the criticality of any actions taken, we must ensure that appropriate checks and balances are in place, to avoid unintended consequences.
"The new measures put forward in the Strategy point to "Enhanced Cyber Security Obligations", new Government powers and "Government Assistance" through "directions and direct actions" in relation to (regulated) critical infrastructure entities and systems of national significance.
The Cyber Security Strategy also earmarks a total of $77 million for a Cyber Security National Workforce Growth Program and a Skills Partnership Innovation Fund, which were also welcomed by the industry association.
"We will only be able to significantly lift our game if our workforce in all sectors has the skills to effectively address the challenges that lie ahead. We have previously highlighted this issue and are pleased that it has been recognised by Government as an area of focus," Mr Stanton said.
"The Strategy requires careful implementation and a major effort will be needed to translate the high-level Action Plan into practical, efficient and effective measures.
"We are keen to work closely with Government and other relevant stakeholders to understand what this Strategy means for a mature industry such as telecommunications, which is relatively advanced in the protection of its critical infrastructure and the regulation associated with this," Mr Stanton concluded.

---
Regional Connectivity Program - Opening of Application Period

The Australian Government has now opened the Regional Connectivity Program (RCP) competitive grants opportunity and is calling for applications from interested entities.
The RCP will provide up to $53 million of targeted, place-based investment in telecommunications infrastructure projects which facilitate economic and social opportunities in regional, rural and remote communities, particularly those outside the existing NBN fixed-line footprint.
Details on how to apply for RCP funding and the assessment criteria for eligible projects may be found in the RCP Grant Opportunity Guidelines, available via the Government's GrantConnect website. Applications are due by 5:00pm AEDT on 20 October 2020.
As part of the RCP application process, the Government has also launched a project noticeboard to help regional communities, local, state and territory governments and other interested parties to form partnerships with the telecommunications sector and to develop applications for RCP funding.
We invite you to view, upload and share potential projects for funding on the noticeboard. The noticeboard will be available until the closing date for applications. All terms and conditions of use for the noticeboard are available on the Department's website.
Please contact the RCP team at mailto:RegionalConnectivity@communications.gov.au if you require additional information regarding the RCP or the project noticeboard.
---