Issue No 28: 18 December 2019
---
Events







Follow us on Twitter here Like us on Facebook here Follow us on Linkedin here
---
ACOMMS 2020
SAVE THE DATE - Wednesday 26 August 2020 - acomms.com.au/2020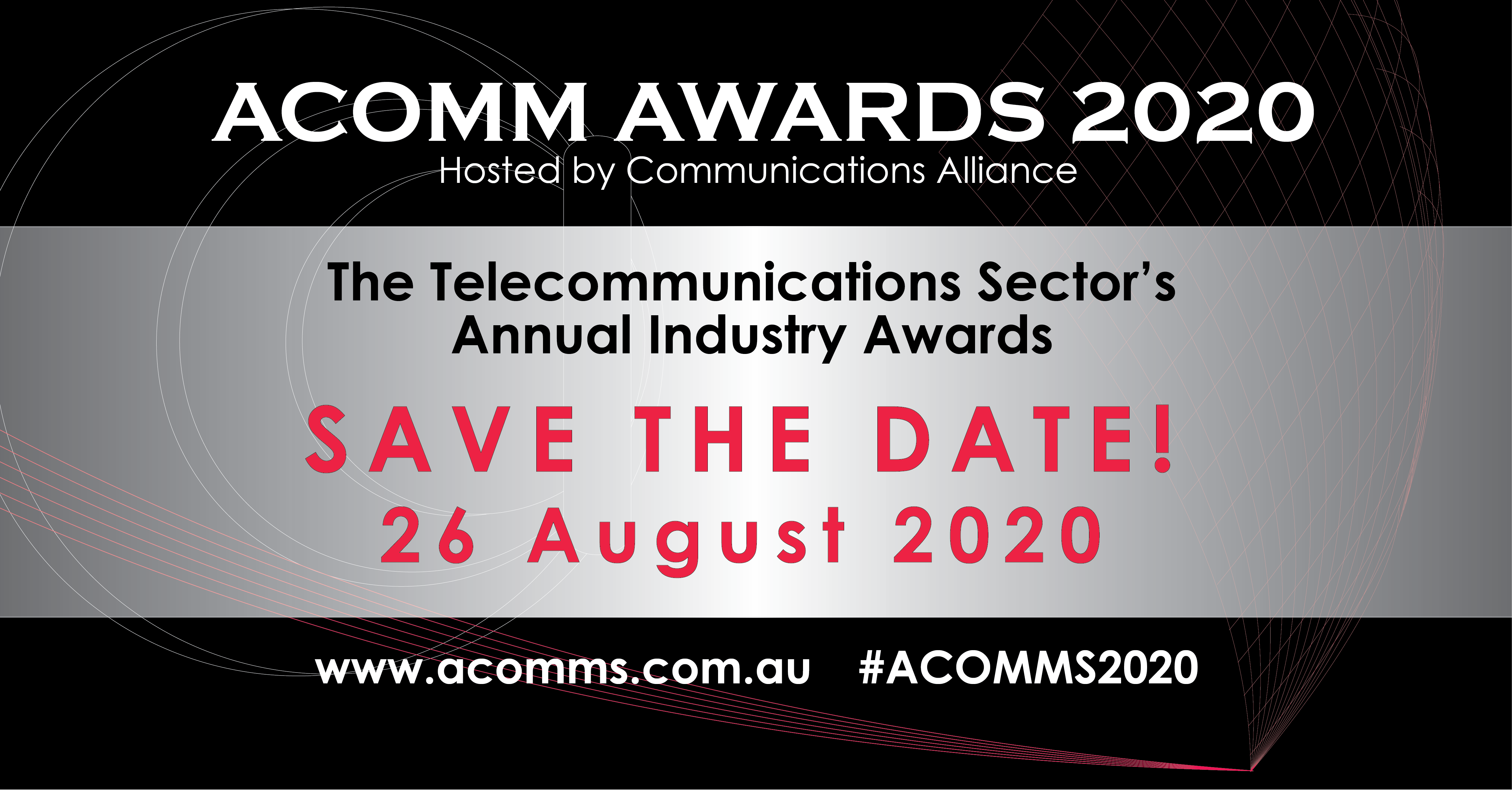 ---
Communications Alliance Publishes Expanded Complaints in Context Report

Communications Alliance has released its first expanded Complaints in Context report, showing that for participating service providers in July to September of this year, there were 6.8 complaints received by the Telecommunications Industry Ombudsman (TIO) per 10,000 Services in Operation (SIO).
Complaints in Context is a quarterly report that allows the customer service and complaint handling performance of Australian service providers to be directly compared, regardless of the size of the provider. The report is published by Communications Alliance, using complaints data provided by the TIO and services in operation (SIO) data supplied by participating providers.
The report published today is the first 'expanded' edition, after the revised and strengthened Telecommunications Consumer Protections (TCP) industry Code came into effect in August and mandated participation by the 10 providers for whom the TIO received the most complaints in the previous financial year. Previously, participation in the index was voluntary.
"By expanding the Complaints in Context report, Industry is providing consumers with comparable and contextualised customer service performance results that cover the vast majority of the Australian marketplace," said Communications Alliance CEO, John Stanton.
"The previous voluntary participants – amaysim, Optus, Telstra, Pivotel, and Vodafone – have been joined by 7 additional providers, giving consumers the most comprehensive tool ever created in Australia to directly compare the performance of all the major players," continued Stanton.
Previous reports have included longitudinal data over prior quarters, but due to the changes in participants, this report only includes data on this quarter. Previous reports are available on Communications Alliance's website here.

Report link: https://commsalliance.com.au/__data/assets/pdf_file/0004/68224/CiC-Report-Jul-Sep-2019.pdf

---
Communications Alliance Welcomes Modernised Consumer Safeguards

Communications Alliance and its members welcomed the Government's announcement on modernising consumer safeguards in telecommunications.
"Keeping telecommunications regulations up to date with changing technologies and consumer expectations is an important task. This report seeks to strike a balance between consumer protection and consumer benefit through competition, innovation, and increased value, and we look forward to consulting further with Government on implementation of the recommendations," said Communications Alliance CEO, John Stanton.
"We are pleased to see that the Consumer Safeguards Review Part B Final report reflects elements of the industry feedback on the initial Departmental recommendations and the consultation undertaken by the Minister and the Department during the past year.
"I believe it paves the way for providers to make continuity commitments in ways that support consumer choice and preferences, are appropriate to providers' business models and promote competitive differentiation.
"The move away from some elements of the initial Part B proposals removes some potentially anticompetitive outcomes, which had caused concern within industry and could have stifled innovation and created increased costs for consumers," continued Stanton.
"We are reviewing and considering the detailed recommendations in the report, but support the approach, including that outdated regulation should be removed, implementation should actively avoid the risk of duplicative regulation, and competition will bring the most benefit to consumers. Industry is pleased that the recommendations provide a framework for stakeholders of all types to contribute to developing the detail and implementation of the recommendations – which should lead to better, more informed outcomes."

---
Digital Platforms Inquiry Response – Communications Alliance

Communications Alliance welcomes the opportunity to engage in the review of the Privacy Act, announced today as part of the Government's response to the ACCC's Digital Platforms Inquiry.
"It is important that Australia's privacy framework be fit-for-purpose in the digital age – but equally vital that any overhaul of the Privacy Act be underpinned by a full analysis of the economy-wide impact of proposed reforms; not just the impact on digital platforms," said Communications Alliance CEO, John Stanton.
"If the review pushed to include communications metadata as part of the definition of 'personal information' under privacy laws, for example, it must be demonstrated that this would create an actual benefit for consumers, and that this benefit would outweigh the enormous potential costs involved."
"The review must also take account of the complexities flowing from the introduction of the Consumer Data Right (CDR) regime to selected industry verticals and of the experience gained from the implementation of the European Union General Data Protection Regulation (GDPR)."
"We are also pleased to see that the Government has resisted the ACCC's calls for immediate reform to the Australian Consumer Law and a mandatory take-down code to assist copyright enforcement, and instead has committed to wider, more contextualised consultation on these matters of economy-wide importance."
Communications Alliance is working with Government stakeholders to implement relevant recommendations of the Task Force to Combat Terrorist and Extreme Violent Material Online, which forms part of the Action Roadmap released by Government today.

---
Communications Alliance Call for Members of the New G.fast Working Committee

Communications Alliance is seeking Expressions of Interest for representatives for the following Working Committee:

WC93 : G.fast Working Committee

The WC93 : G.fast Working Committee 93 is to revise the:

C658:2019 Next-Generation Broadband Systems Deployment in Customer Cabling Industry Code, and
AS/ACIF S043.2 Requirements for Customer Equipment for connection to a metallic local loop interface of a Telecommunications Network - Part 2: Broadband Australian Standard
To align with international developments in G.fast technology (e.g. ITU-T Recommendation G.9700) and update the content of C658:2019 and AS/CA S043.2:2016 to enable the deployment of next generation broadband systems based on G.fast technology.
The C658:2019 Next-Generation Broadband Systems Deployment in Customer Cabling Industry Code is designed to prevent performance-degrading Unacceptable Interference within Customer Cabling that carries Legacy Systems (e.g. ADSL2+ technology) and/or Next Generation Broadband Systems (e.g. VDSL2 technology).

The AS/CA S043.2:2016 Requirements for Customer Equipment for connection to a metallic local loop interface of a Telecommunications Network - Part 2: Broadband Standard applies to Customer Equipment (CE) that is designed or intended for connection to a Telecommunications Network via a metallic local loop interface and has a broadband capability.

Expressions of Interest for membership of the above Committee will be assessed on the basis of achieving appropriate and balanced representation of interested, affected sectors. Membership of Communications Alliance Working Committees is on a voluntary basis. It is expected that Working Committee members both attend regular meetings and contribute time outside the meetings.

Further information on the project can be found in the Information Pack on the WC93 webpage. Expressions of Interest to participate on the WC93 Working Committee can be lodged using the nomination form, also available on the WC93 webpage.

Applications close at 5.00 pm AEDT on Friday 7 February 2020.

---
New Guideline to Support Improved Location Information on Emergency Calls

Communications Alliance has published the new G557.6:2019 Location Information for Emergency Calls Part 6: Advanced Mobile Location (AML) Industry Guideline to support improved location information on emergency calls.

G557.6 specifies the arrangements for the transfer of an AML short message, associated with emergency calls from mobile phones, between Mobile Carriers and Telstra in its role as the Emergency Call Person for 000 and 112. The Guideline is aligned with the recently published ETSI Technical Specification on handset location for emergency calls (ETSI TS 103 625).

This supports work by the Department of Communications and the Arts on arrangements to improve the accuracy of location information provided by callers from mobile phones to the Triple Zero Emergency Call Service (managed by Telstra as the Emergency Call Person, and subsequently provided to appropriate Emergency Services Organisations (i.e. the Police, Fire and Ambulance services of each Australian State and Territory).

---
Season's Greetings and Best Wishes for the New Year
This is the last issue of We Communicate for 2019. Thank you to all our members for your support, guidance and contributions to our work during 2019.

We look forward to another creative, constructive and successful year of working together and in your service.



---