Events




ACOMMS 2023: Winners Here


Follow us on Twitter here Like us on Facebook here Follow us on Linkedin here
---
2023 ACOMM AWARD WINNERS ANNOUNCED
Patrick Fair & Peter Leonard -2023 Communications Ambassadors
Winners in 2023 include NBN Co, Fastmail, Felix Mobile, King & Wood Mallesons, Lockheed Martin Australia, Matchboard, Meshed, NBN Co, Nokia, Optus, and Silver Trak Digital
Two industry veterans and revered experts in the Australian telecommunications legal and regulatory framework, cyber security and privacy law, Patrick Fair and Peter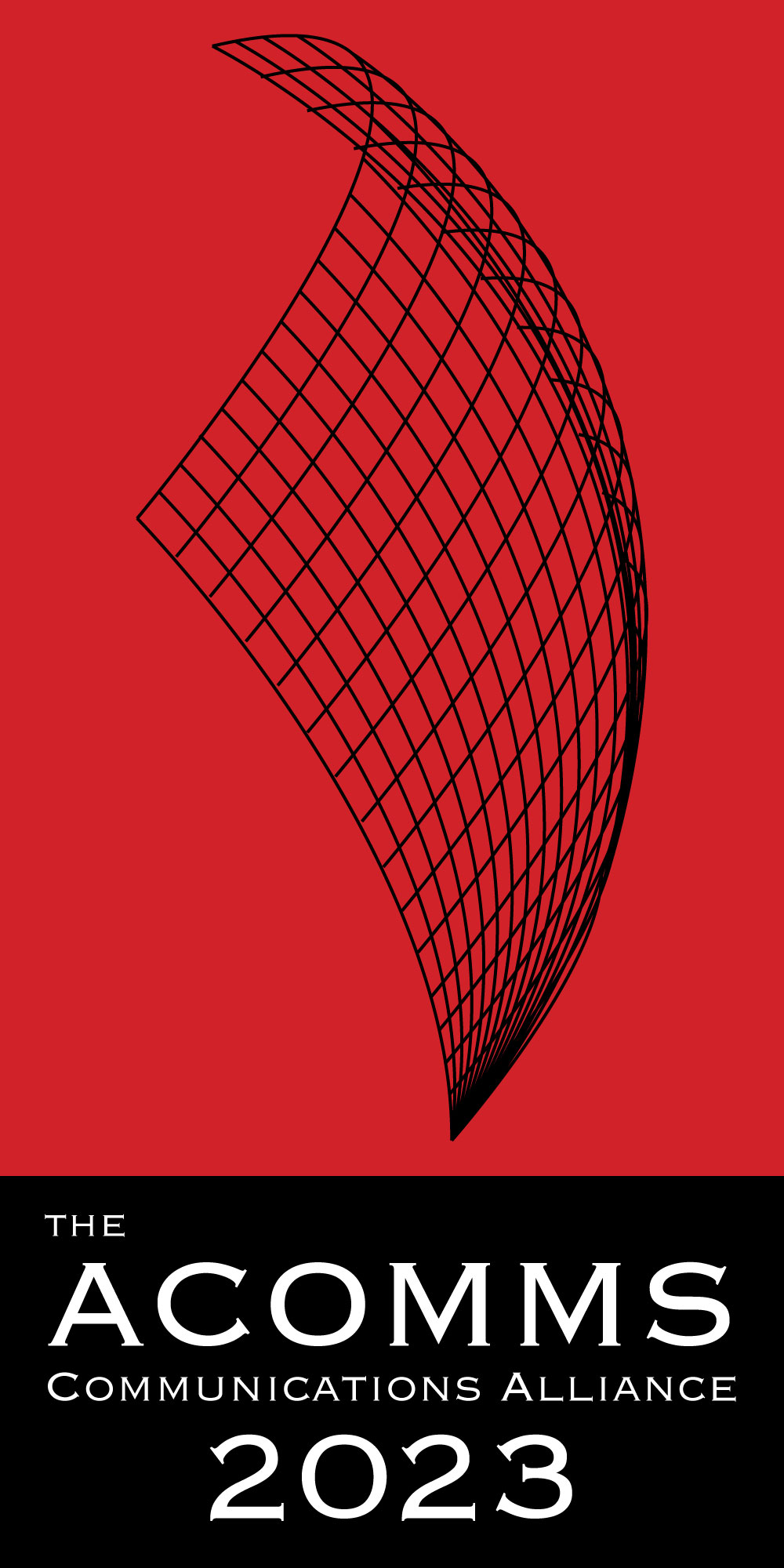 Leonard, have jointly taken out the communication industry's most prestigious accolade; being awarded the title of Communications Ambassador 2023 at this year's ACOMM Awards.

The winners of the 2023 Communications Alliance Awards were announced this evening at the 17th Annual ACOMM Awards Dinner in Sydney. The evening's keynote address was delivered by the Federal Minister for Communications, The Hon. Michelle Rowland MP, followed by an address from the Shadow Minister for Communications, The Hon. David Coleman MP.

Communications Alliance CEO, John Stanton, said it was only the second time in the history of the ACOMMs that the judging panel had been unable to separate the top two finalists for the Communications Ambassador award, resulting in a dead-heat and dual winners.

"This result could not be more appropriate, nor more highly merited. Patrick and Peter are acknowledged as two of the sharpest brains in the sector and have provided wide-ranging, mission-critical advice to all players – from governments and regulators, to carriers, CSPs, vendors and so many others – over multiple decades."

"In a technical, regulatory, legislative and security environment as complex and dynamic as we navigate in the communications sector, the analysis, advice and commitment that icons such as Patrick and Peter provide are indispensable."

"Both Patrick and Peter have also offered invaluable voluntary guidance and help to Communications Alliance, our members and to consumers, as the sector has transformed."

Stanton added, "The ACOMM Awards represent the pinnacle of achievement for the Australian communications industry, and I congratulate all the winners and finalists in the 2023 ACOMMS."

"Excellence in innovation is a pervasive trait in the achievements of the 2023 ACOMM winners."

The winners of the 2023 ACOMM Awards are:


COMMUNICATIONS AMBASSADORS – Patrick Fair and Peter Leonard
Innovation – Large Company - Optus: For Living Network - new features (Network Pulse, Turbocharge & Pause) giving customers control of their connectivity.
Innovation – SME – Meshed: For providing accurate real time data on pedestrian traffic & patronage in specific locations.
Best Mobile Solution – Silver Trak Digital: For their 5G Cinema Direct content delivery service - Australia's fastest, most robust and most secure delivery of digital content over 5G supported by Cradlepoint 5G solutions for cinemas, content distributors and movie studios.
Services to Industry – Professional Services - King & Wood Mallesons: For their Restructuring advisor - legal and regulatory
Commitment to Customer Service – felix Mobile: For their underpinned by its uniquely human '7 ways we care' service framework.
Australian Space Industry Award – Lockheed Martin Australia: For their for role in developing, deploying and operating SouthPAN - the Southern Positioning Augmentation Network.
Vendor Innovation – Nokia: For Nokia's Lightspan MF-14 - next-generation fibre technology for smarter, faster, greener fibre broadband networks.
Contribution to Society – Optus: For their Optus Digital Thumbprint program - positively changing behaviour and supporting young people and families to thrive in the digital world.
Diversity and Inclusion – NBN Co: For their Customer Field Technician Traineeship Program by nbn.
Artificial Intelligence – NBN Co: For their multi-channel AI chatbot that offers the ability for digital self-service on nbn digital channels.
Best Digital Platform –Matchboard: Matchboard's matching platform offers an innovative solution to the often time-consuming task of finding trusted suppliers online.
Cyber Security and Online Safety Innovation – Fastmail: Fastmail continues to expand masked email partnerships and further support online privacy and open standards work.
Special awards also went to Aussie Broadband, Optus, Telstra and TPG Telecom, recognising their decision to collectively and voluntarily donate $500,000 to provide additional funding for financial counsellors in Australia.

Winners Media Release
---
Submission on Safe and Responsible AI in Australia
Communications Alliance has made a submission in response to the Department of Industry, Science and Resources Discussion Paper "Safe and Responsible AI in Australia".

The submission makes a number of recommendations, including to:
At this early transformational stage of AI, opt for a voluntary and 'light-touch' approach to AI regulation to avoid stymying innovation;
Leverage existing (technology-neutral) laws and regulations to the extent possible. Where required, build new regulation on working legal concepts. Perform a thorough gap analysis to understand where, if at all, new regulation would be required;
Ensure any new or revised regulator framework provides for proportionate privacy laws enabling international data transfers, limited safe harbours, a balanced approach to copyright and appropriately assigns responsibilities for the use of AI in the supply chain;
Align with international definitions, standards and frameworks to focus on appropriately mitigating risk of high-risk use cases.
Focus a risk-based approach to AI regulation on the purpose of the AI instead of the activities that the AI performs.
Establish a single, centralised 'AI capacity unit' to assist all participants in the ecosystem with the unique challenges that AI will pose.
---
Coordinating Spectrum Usage Through Assignment and Licensing Instructions
One component of the ACMA's ongoing review of their spectrum planning technical framework is ensuring that the frequency coordination requirements for apparatus-licensed services remain current. The ACMA has recent consulted on their 12 to 18 month program to review their administrative policy documents known as the Radiocommunications Assignment and Licensing Instructions (RALIs).

The Communications Alliance Satellite Services Working Group (SSWG) provided a submission outlining its interest in participating in the review of a number of RALIs, including those covering earth station protection zones, area-wide apparatus licensed services, microwave fixed services frequency coordination and various spectrum embargoes.
---
Winx Stakes Day in Honour of Tim McPhail
The late Tim McPhail was a significant figure in the industry, a good friend and source of advice to many and was known for his invaluable contributions to the creation of good regulatory solutions and positive outcomes for consumers.

Racing NSW and the Australian Turf Club are holding a Winx Stakes Day. This event will be supporting the family in need and research into a cure for Muscular Dystrophy.

For further information and to book for the Winx Stakes Day click HERE


---
Current Consultations
Below is a list of currently open telecommunications-related consultations being conducted by Government and other organisations that provide an opportunity for you to have your say.

Organisation/Closing Date

NSW Portfolio Committee No 1 – Premier and Finance - 20/10/2023


ACMA - 7/08/2023



ACCC - 7/08/2023



DITRDCA - 6/08/2023


ACMA - 1/08/2023