Issue No 2: 2 February 2022

---
Events

Follow us on Twitter here Like us on Facebook here Follow us on Linkedin here
---
Comms Alliance Welcomes TIO Appointment

Communications Alliance has welcomed the appointment of Cynthia Gebert as the incoming Telecommunications Industry Ombudsman.

Ms Gebert has been the Energy and Water Ombudsman (Victoria) since 2012. She takes up her role as TIO in May this year.

Comms Alliance CEO, John Stanton, said industry looks forward to continued close engagement with the TIO, underpinned by a shared desire to ensure positive consumer outcomes.

Mr Stanton paid tribute to the outgoing TIO, Judi Jones.

"Judi has performed admirably in the TIO role over the past six years – demonstrating sound judgment and the ability to balance the range of factors that contribute to the consumer experience,

"We wish Judi well in her future chapters," Mr Stanton said.

---
Telcos Score Well on Contactability – Despite the Pandemic

Communications Alliance has welcomed the generally positive results of an audit conducted by the ACMA into the contactability of telcos.

The audit reviewed data from 11 telcos for the six-month period January to June 2021 in relation to customer contact and complaints-handling rules.

Issues that were considered included:

methods used by customers to contact telcos
average wait times experienced by customers contacting telcos
rates of successful resolutions to issues for customers on their first contact with telcos
timeframes for acknowledging customer complaints.

The ACMA announced this week that, overall, the results were positive. It found that telcos were largely compliant with relevant rules under the Telecommunications Consumer Protections Code and the Telecommunications (Consumer Complaints Handling) Industry Standard 2018.

For three of the four largest service providers in the audit, wait times in call queues were reduced by almost 50%, compared to the corresponding period in 2018.

Comms Alliance CEO, John Stanton, said the industry's performance was commendable, particularly against the backdrop of massive operational disruption and increased consumer demand, generated by the COVID-19 pandemic.

---
Submission in Response to Privacy Act Review

Communications Alliance made a substantial submission to the Attorney-General's Department (AGD) in response to the Privacy Act Review Discussion Paper.
Given the extensive range of issues covered in the Discussion Paper, the submission focuses on a limited number of issues of particular relevance for our industry, including:

objects of the Privacy Act;
definition of personal information, including when information falls outside the scope of that definition;
controller/processor distinction;
opt-outs, direct marketing, targeted advertising and profiling;
direct right of action and statutory tort; and
overseas data flows and extra-territorial application.

---
Submission in Response to SCLACIP

Communications Alliance also responded to the Department of Home Affairs consultation on the Exposure Draft of the Security Legislation Amendment (Critical Infrastructure Protection) Bill 2022 (SLACIP Bill).
In the submission, we offer our in-principle support for the objectives of the legislation, but note that elements of it can and should be improved before consideration by Federal Parliament.
In particular, we note that the Bill should be amended to provide greater certainty that the TSSR framework will be taken into account (as indicated by the Department of Home Affairs), given the risk of duplicative and/or conflicting obligations on industry player to be created.
The submission also makes a number of suggestions for further improvements of the Bill, including around the consultation requirements prior to declaring a System of National Significance, protected information and the definition of 'data storage or processing' and 'data storage or processing asset'. The submission also proposes a definition for 'critical telecommunications asset'.

---
Join us on Tuesday 8 February for Safer Internet Day!

With so much of our time spent online, it has never been more important to promote the safe use of technology, build digital skills and help all Australians have safer, more positive experiences online.

The Safer Internet Day campaign raises awareness about online safety for people of all ages and is celebrated in 170 countries.

Join us in supporting Safer Internet Day 2022. Download eSafety's campaign kit and share a video message with your followers.

Through simple actions like being safe, respectful and kind, we can all #PlayitFairOnline.

Visit http://esafety.gov.au to sign up and learn more.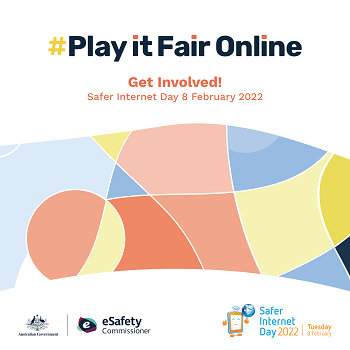 ---
Current Consultations
Below is a list of currently open telecommunications-related consultations being conducted by Government and other organisations that provide an opportunity for you to have your say.

Communications Alliance members interested in contributing to an industry submission (if one is being developed in response to a specific consultation) should contact us.