---
SAVE THE DATE: 2020 ACOMM Awards Virtual Showcase Event

The 2020 ACOMM Awards Virtual Showcase will be streamed here via Cisco. Tune in on the 10th September from 4pm to celebrate our industry achievements.
Winners will be announced plus keynote addresses by the Minister for Communications, Cyber Safety and the Arts, The Hon Paul Fletcher and the Shadow Minister for Communications, Michelle Rowland.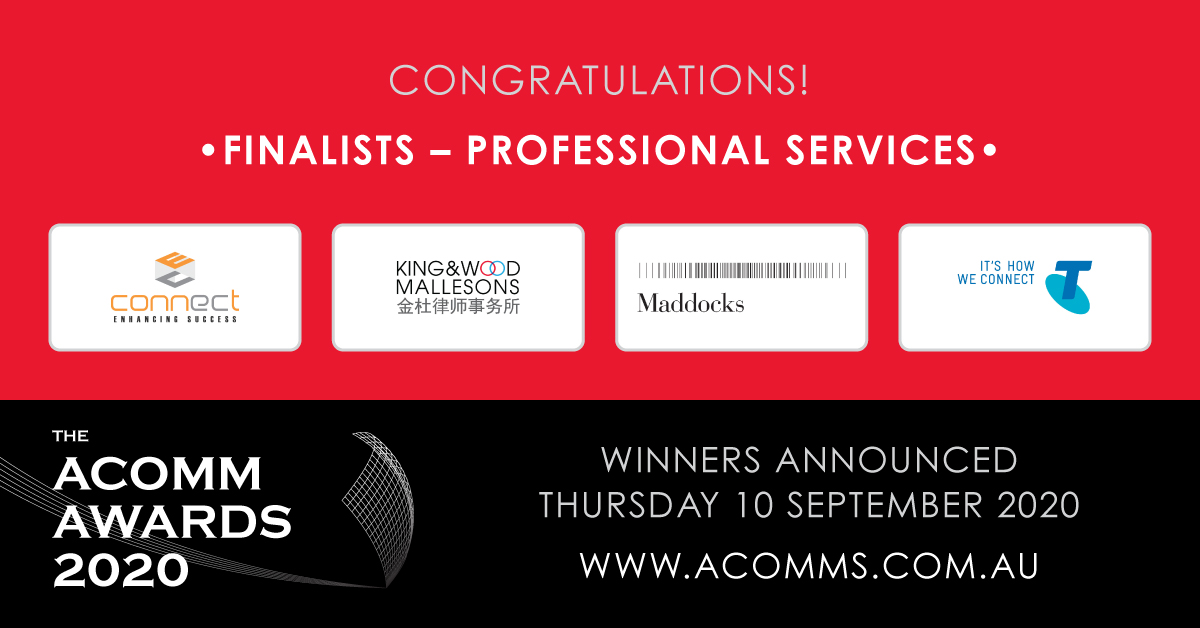 The ACOMM Awards are proudly presented by Communications Alliance. The MNF Group is the 2020 Title Sponsor of the ACOMMS, with Mirait Gold Sponsors, Bird & Bird, Vodafone Bronze Sponsors and Cisco Digital Sponsor.

---
COVID-19 Generates Small Rise in Contextualised Telco Complaint Ratios

Communications Alliance released its Complaints in Context report for the April – June 2020 quarter.

The report details the complaints received by the Telecommunications Industry Ombudsman (TIO) per 10,000 Services in Operation (SIO) for participating service providers for each quarter. It allows comparison of the customer service and complaint handing performance of providers, regardless of their size.

For all participating service providers, there were 7.4 complaints per 10,000 SIOs, a slight increase over the previous quarter's ratio of 7.1. This means that across the participating telcos, one service in every 1,351 services in operation experienced an issue that resulted in a complaint being made to the TIO.

Communications Alliance CEO John Stanton said: "COVID-19 has created significant disruptions for telcos and their customers. While we regret any problems that consumers have encountered during this time, we are pleased that – despite the difficulties – we only saw a small increase in the overall complaint ratio for the most recent quarter.

"Some providers achieved improvements in their ratio, in spite of challenging circumstances. All telcos have worked diligently to keep Australians connected throughout the pandemic and will continue to do so."

"Many telcos have offered additional assistance to those impacted by the pandemic or who are having difficulties paying their bills, and financial hardship assistance is always available to any customer who needs it. We encourage you to check your provider's website to see what is available," continued Stanton.

The industry-driven report is published by Communications Alliance, using complaints data provided by the TIO and SIO data supplied by participating providers. The number of participating service providers significantly expanded, beginning in the July – September 2019 quarter, meaning that the ratios for all participants and individual providers are not directly comparable to the results published prior to that quarter.

---
Revision of ACCC Broadband Speed Claims Industry Guidance

Communications Alliance has provided a submission to the ACCC on their proposed changes to the Speed Claims Industry Guidance. Industry has encouraged the ACCC to reconsider if prescriptive labels remain fit for purpose in such a quickly changing market.
---