---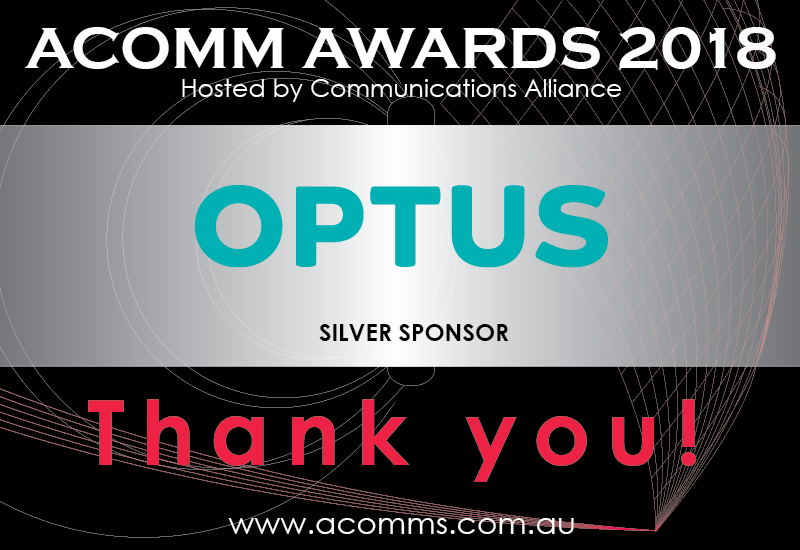 www.acomms.com.au/nominations.php
Visit the 2017 ACOMMS photo gallery here and highlights video here. And see the 2017 winners here.
---
Industry Recommends Improved Complaint Handling Rules

Communications Alliance has proposed a set of improvements to proposed new regulatory rules on the handling of consumer complaints about telecommunications services.

The industry proposals on the new rules – which have been drafted by the industry regulator, the Australian Communications and Media Authority (ACMA) in response to a Direction from the Federal Government – are designed to focus resources on resolving complaints for customers by reducing unnecessary additional cost and prescription.
Industry has publicly supported the efforts of the Minister for Communications and the Arts to improve the customer experience in the telco sector.
After a five-year period of falling complaint volumes, the recent increases in complaint numbers across a range of product areas have been very disappointing for customers, service providers and regulators alike.
In its submission to the ACMA, Industry welcomed the ACMA plan to change the current Chapter 8 of the Industry Telecommunications Consumer Protections Code to a Standard.
"Industry developed these rules, and we welcome the ACMA taking steps to increase the level of industry compliance," said Communications Alliance CEO John Stanton.
"However, the new Record Keeping Rules (RKRs) proposed by the ACMA will not provide meaningful comparative information for consumers, will be extremely costly to implement, and will not, in our view, contribute to the improvement of the consumer experience – neither for services supplied using the NBN, nor for other services.
"Worse, the proposed RKRs will lead to providers diverting customer service resources away from addressing complaints, with no clear benefit to consumers.
"We have suggested, as an alternative, expanding the existing Complaints in Context report to provide consumers with comparable and unbiased data on complaints, without the huge additional cost of the RKRs – a cost that will ultimately be borne by consumers," said Stanton.

---
Complaints in Context Report and Customer Satisfaction Surveys Show Need for Continued Efforts
Complaints to the Telecommunications Industry Ombudsman as a proportion of services in operation (SIO) for participating service providers increased to 9.3 complaints per 10,000 services for the period January to March 2018. This is higher than the previous quarter at 8.7.
Communications Alliance CEO, John Stanton, said "This result highlights that our industry is still struggling with the disruptions caused by the rollout of the NBN and the transformation of communications delivery platforms. Though the numbers are very disappointing, we are continuing our work on customer-centric initiatives with Government, regulators and consumer representatives to improve the overall customer experience."

Complaints in Context is a quarterly report published by Communications Alliance with complaints data provided by the Telecommunications Industry Ombudsman. The report for January to March 2018 can be found on the Communications Alliance website.

The last two waves of the quarterly survey carried out for Communications Alliance by Roy Morgan Research on customers' satisfaction with certain aspects of their communications services contain mixed results but also point to an increased dissatisfaction with complaint handling performance. The most recent report can be accessed here, and the prior report can be accessed here.

---
Industry is Working to Improve Overall Customer Experience

The complaint statistics contained in the TIO Six Month Update are disappointing and highlight that the telecommunications industry has to do more to improve the customer experience.

Communications Alliance Director Program Management, Christiane Gillespie-Jones said: "While our industry is dealing with disruption, in part caused by the significant increase in NBN connections and migration to the network, we are disappointed with the high level of complaints in the second half of 2017.

"Industry – including service providers and nbn – are working intensely on a range of measures to improve the overall consumer experience.

"Some initiatives around broadband speeds are bearing fruit already and we are pleased to see that the speeds customers are receiving – even during peak hour – are often exceeding the promised speeds, as evidenced in the recent ACCC Broadband Speed Monitoring Report.

"Having said that, we acknowledge that further efforts in various areas of customer engagement across service types are required to better address customers' needs and to ensure that initial positive signs turn into a sustained trend of an improved overall customer experience", Ms Gillespie-Jones said.

The TIO report underlines that the rollout of the NBN – with close to one million new premises activated in the second half of 2017 – has contributed to the increased complaint numbers.

"With 'Provider Response' being the top issue raised by customers who complain in relation to a service delivered over the NBN, our industry will be working to improve the end-to-end experience, including through improved assistance between providers in the supply chain to resolve complaints."

However, the large share of mobile complaints (29%) highlight that the rollout of and migration to the NBN are not solely responsible for the increase in complaints meaning that industry needs to address customer service and complaint handling more broadly.

The 31% share of complaints that involve more than one service type indicates that the telecommunications landscape is very complex and that often issues cannot be attributed to one single cause which may complicate resolution.

"Our industry cannot be satisfied with these numbers and we will continue to implement measures – including through the enforceable Telecommunications Consumer Protections (TCP) Code that is currently being revised – designed to improve the overall customer experience", Ms Gillespie-Jones concluded.

---
Industry Welcomes the Consumer Safeguards Review

Industry welcomed lasts week's announcement by the Minister for Communications and the Arts, Senator Mitch Fifield, of the commencement of a Consumer Safeguards Review in the telecommunications sector.

The review was originally flagged to commence in 2016, recognising that some of the existing protection instruments have been overtaken by time and by technological and industry structural developments, including the rollout of the NBN.

Communications Alliance Director Program Management, Christiane Gillespie-Jones commented:

"The Review is overdue, and industry is keen to engage closely with relevant stakeholders on all parts of the review to produce an efficient and fit-for-purpose framework for consumer safeguards – including through the use of updated Industry Codes."

"Of course, we are not satisfied with the high numbers of complaints that we are currently seeing, and industry recognises that more needs to be done to improve the overall customer experience.

"We also have to take into account the current once-in-a-generation transformation of communications delivery platforms, which bring transitional disruption along with long-term benefits to telecommunications users.

"Therefore, we need to ensure that any policy settings adopted now are effective in the long term while not creating unnecessary regulatory burden and costs for consumers after the rollout of the NBN has been completed."

Industry is working with the ACMA on a Complaint Handling Standard and other measures directed at complaint handling performance and an improved NBN migration experience. Communications Alliance is confident that customer-centric measures devised through a concerted industry effort, including Government, regulators and consumer representatives, will have a positive impact on many areas of customer engagement and customer experience.

Communications Alliance and its members are also in the process of revising the Telecommunications Consumer Protections (TCP) Code in consultation with consumer advocates, both regulators and Government. It is anticipated that the revised Code will be submitted to the ACMA for registration and enforcement in spring this year.

---
New Member
Communications Alliance is pleased to welcome the following new member;
Net Intellect Pty Ltd


Formed in 1996, Net Intellect has established a solid reputation as a provider of high quality IT services to businesses throughout regional Australia.

Based in Albury/Wodonga, Net Intellect is perfectly equipped to service a broad-range of clients ranging from small enterprises with five computers right through to government organisations with upwards of 100 computers.

Through its team of highly experienced personnel, Net Intellect offers a competitive mobile service that meets and exceeds business IT requirements throughout Australia's eastern seaboard.

In May 2008, Net Intellect joined forces with Domain Network Solutions to become the largest IT consultancy based in the Albury/Wodonga region. The move provides our clients with access to a comprehensive team of IT professionals and resources whilst combining the best elements of both businesses.

---