---
Communications Alliance submission to the Treasury review of the Open Banking Report

Communications Alliance has made a high-level submission to the Treasury's review of the Open Banking Report.

The submission lends qualified support to an economy-wide Consumer Data Right(CDR)and the high-level principles and goals outlined in the Report but urges Treasury and Government agencies to adhere to regulatory best practice, including rigorous cost-benefit analyses and accessible regulatory impact statements.

Communications Alliance also highlights that the transposition of approach and rules envisaged for the banking sector to the telecommunications sector requires great care and consideration, in particular with regards to the definition of the data sets that consumers can request to be transferred.

The submission identifies a need for early harmonisation across verticals, for example in the areas of privacy and data security, to avoid the possibility that sectors joining the CDR regime a little down the track will be disadvantaged by the application of rules that were designed for, and suit better, those verticals that joined the regime earlier.

---
Competition Improves Value for Consumers in Telecommunications

The ACCC today published its annual report on competition and price changes in the telecommunications sector in the 2016-17 financial year.
The report shows that consumers were able to access communications services of growing value as prices fell and plan inclusions increased.
"At a time when affordability in energy markets is a major concern, competition in the broadband and mobile market is continuing to benefit consumers," said ACCC Acting Chair Delia Rickard.
Data downloads rose by 43 per cent over the year, with consumers continuing to rely heavily on fixed broadband connections, which accounted for 92 per cent of all downloads.
The real prices for fixed internet services in the market fell by an average 4.5 per cent year-on-year from 2014 to 2017. The range of plans and bundles available has changed significantly and a quarter of all fixed broadband plans had an unlimited data allowance, up from 5 per cent in 2014. Real prices of mobile services dropped by an average of 7.1 per cent each year over the same period, though the price of higher-priced prepaid plans increased in the last year.
"Consumers are obtaining greater value for money and receiving and using more data each year," Ms Rickard said.
"In other encouraging developments, we are seeing new players enter the fixed and wireless broadband markets and this will provide further competitive pressure going forward."
Overall demand for communication services continues to grow, and more consumers chose to rely on their mobile devices for voice calling in particular.
The number of mobile voice minutes rose by 7 billion over the year, more than offsetting the reduction in fixed-line minutes of 3 billion.
Mobile handsets are also the preferred way of accessing the internet, accounting for 66 per cent of all broadband subscriptions while fixed broadband connections are used far more intensively by businesses and consumers.
The ACCC continues to be active in the sector and will soon release the first report of our Measuring Broadband Australia program. Our commitment to truth in advertising related to broadband speeds is already making it easier for Australians to choose a service provider. We have also initiated an inquiry into NBN wholesale access terms which was one of the 29 recommendations of the draft report of the communications market study.
The ACCC telecommunications report for 2016-17 is published after it was tabled in Parliament, and is available on the ACCC website.

---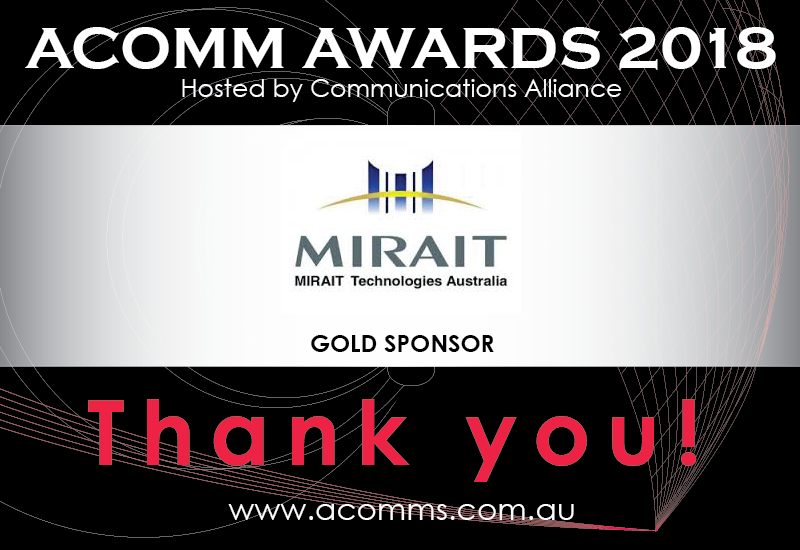 www.acomms.com.au/nominations.php
Visit the 2017 ACOMMS photo gallery here and highlights video here. And see the 2017 winners here.

---