---
Satellite Next-Gen Focus
This Communications Alliance Satellite Services Working Group Event will focus on the on the benefits / opportunities that the progress and innovation of next generation of satellites is ushering in, ranging from LEO to GEO, from cubesats to high throughput satellites, and on technological advancements in areas such as hardware design, optical communications, launch platforms and propulsion.
The event is being held in conjunction with ACMA RadComms 2018. Further information on ACMA Radcomms can be found at https://www.acma.gov.au/theACMA/About/Events/Radcomms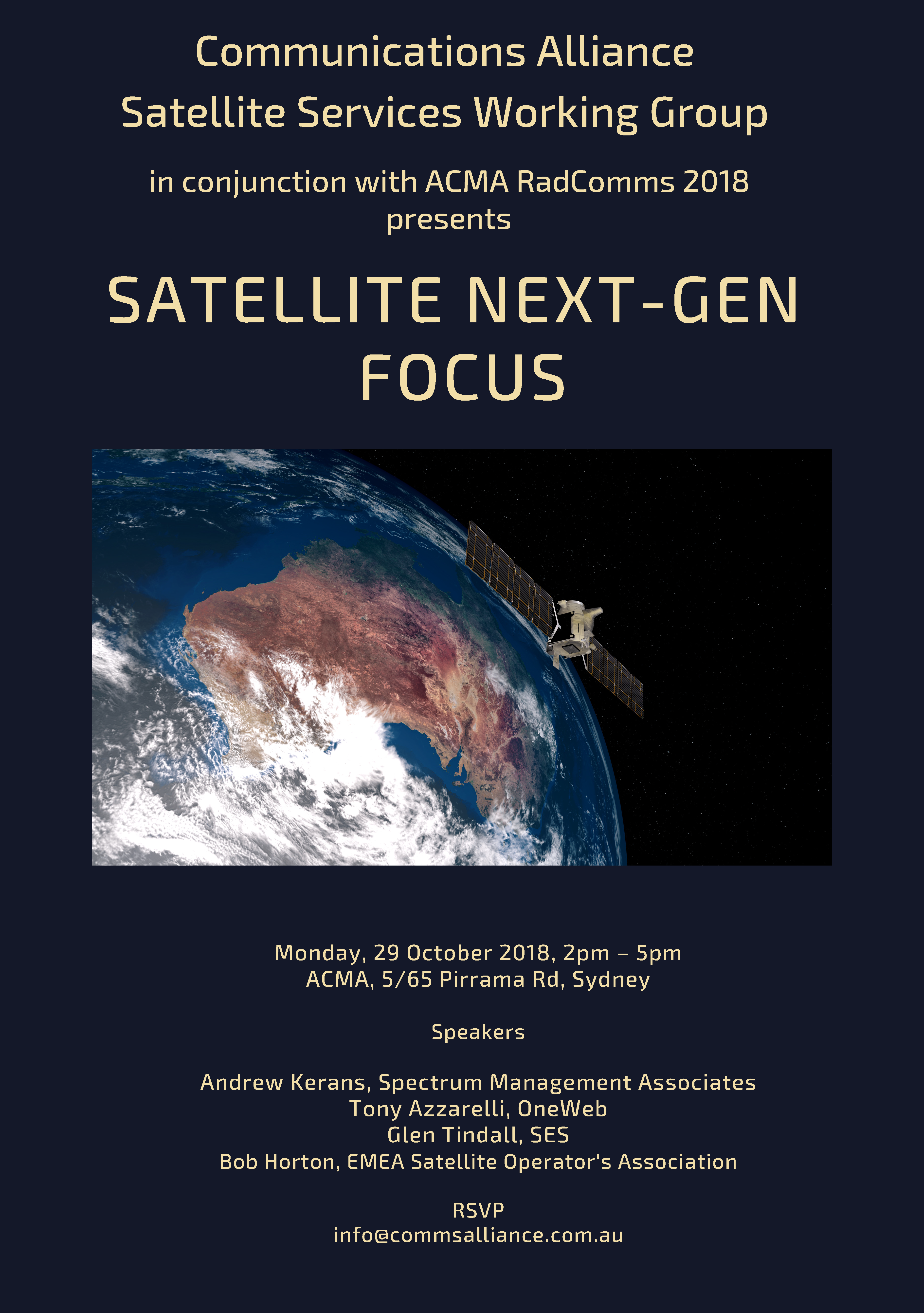 When: Monday, 29 October 2018
Time: 2pm – 5pm
Where: ACMA, 5/65 Pirrama Rd, Sydney
Speakers:
The Future of Australian Satellite Services - Speaker: Andrew Kerans, Spectrum Management Associates
European Harmonised Approach to Satellite Licensing - Speaker: Tony Azzarelli, OneWeb
Standards-Based Integration of Satellite and Terrestrial Networks - Speaker: Glen Tindall, SES
Satellite Communications - The Broader Canvas - Speaker: Bob Horton, EMEA Satellite Operator's Association
Q&A - Facilitator: John Stanton, CEO, Communications Alliance

---
Complaint Numbers Turn the Corner - Data Shows Reforms Are Working
New complaint statistics contained in the TIO's 2017/18 Annual Report demonstrate that recent industry, government and regulatory initiatives are improving outcomes for individual and small business telco consumers.
The TIO Annual Report shows that complaints dropped by 17.8 per cent in the final quarter of 2017/18 - demonstrating that changes, including new industry initiatives, the ACCC's Broadband Speeds Guidance, and the Minister's CEO Forum, are increasingly resolving consumer issues before they feel the need to seek relief via the TIO.
Communications Alliance CEO, John Stanton said that while the data shows a consistent improvement in complaint volumes since February 2018, the telco industry continues to look at ways it can improve consumer outcomes.
"Recent industry, government and regulatory improvements are starting to deliver a dividend for consumers. These measures, which are either the initiative of or supported by industry, demonstrate how seriously telcos are taking the need to improve consumer outcomes and drive down complaint numbers.
"These positive results continue to demonstrate the efficacy of co-regulation. The ability to respond agilely to changing technologies and market conditions, such as through Communications Alliance's publication of key Codes and Guidelines to assist with NBN migration, initiatives by individual service providers and nbn, in combination with recent policy and regulatory changes provides better outcomes for consumers.
"The strengthening of the enforceable Telecommunications Consumer Protections (TCP) Code – which is currently underway – will continue to improve service provision for telecommunications consumers.
"We expect that the Communications Alliance's upcoming Complaints in Context Report will shed further light on the performance of the industry" Mr Stanton
---
Telecommunications Industry Reinforces Support for Customers Experiencing Domestic and Family Violence
Communications Alliance today published a Guideline to help telecommunications providers assist Customers who are impacted by the all-too-frequent scourge of domestic and family violence.
The Industry Guideline: Assisting Customers Experiencing Domestic and Family Violence includes a range of tools providers can use to support customers across their operations. It touches on topics including improved staff training, communicating with customers who are the victims of violence, and the prevention of technology-facilitated abuse.
The Guideline also contains advice on how to better assist customers who have experienced economic abuse in relation to their telecommunications services – a phenomenon that is often associated with physical violence.
The Guideline is intended to educate providers on the prevalence of domestic and family violence and how it can overlap with telecommunications services. It focuses on the importance of being flexible and empowering customers.
Communications Alliance CEO, John Stanton, said: "the prevalence of domestic and family violence in Australia is very disturbing, and every industry should work to fight this epidemic.
"Providers need to be aware that many of their customers and staff will at some stage be affected by domestic and family violence. In these circumstances, telecommunications service can be a lifeline for victims, but – unfortunately - can sometimes also be used by perpetrators to compound the abuse.
"While there are no simple solutions, we have worked with experts in this area to identify key areas of impact and how service providers can help.
"The Guideline emphasises the importance of flexible responses to customers, as each individual's experience and needs will be unique, while enumerating specific tools such as privacy and safety procedures.
"For example, an intimate partner may know most information used to verify a customer's account and may therefore be able to gain access to new contact details or control a victim's account. Telcos should work with each customer in this situation to create new identity verification procedures, so they are not linked to details the abuser has access to.
"We have also devised new co-regulatory arrangements to enable victims of domestic and family violence whose mobile service is part of a telecommunications contract controlled by the perpetrator to exit the arrangement but still retain their original number - something that was not possible under previous rules.
"A long-held number can often be a valued asset and a connection to friends and support, particularly when going through a traumatic period."
The Guideline was developed over the past year through a consultative process with Industry, consumer representatives, and community organisations. Communications Alliance would like to acknowledge all those who participated, including the Economic Abuse Reference Group (EARG) and the Women's Services Network (WESNET), as their extensive knowledge and leadership in the space was invaluable in creating the Guideline. Providers involved in the development of the Guideline included Telstra, Optus, Vodafone, amaysim, and Pivotel.
The Guideline builds on previous work, including last year's registration of a variation to the Telecommunications Consumer Protections (TCP) Code to expressly provide that being a victim of family or domestic violence is a criterion for access to Financial Hardship assistance and publication of a revised Handling of Life Threatening and Unwelcome Communications Code that provides greater protection for Australian consumers against threatening and unwelcome communications including technology facilitated abuse, such as harassment by an abuser.
The upcoming publication of a revised TCP Code will also strengthen a range of protections for all consumers.
"This Guideline is a first step in an ongoing process," said Stanton. "We will continue working with industry and community representatives to ensure appropriate implementation, and the Guideline is a living document that will be updated as we continue to learn."
The Guideline is available here.
---