Events

Follow Us on Twitter here Like us on Facebook here
---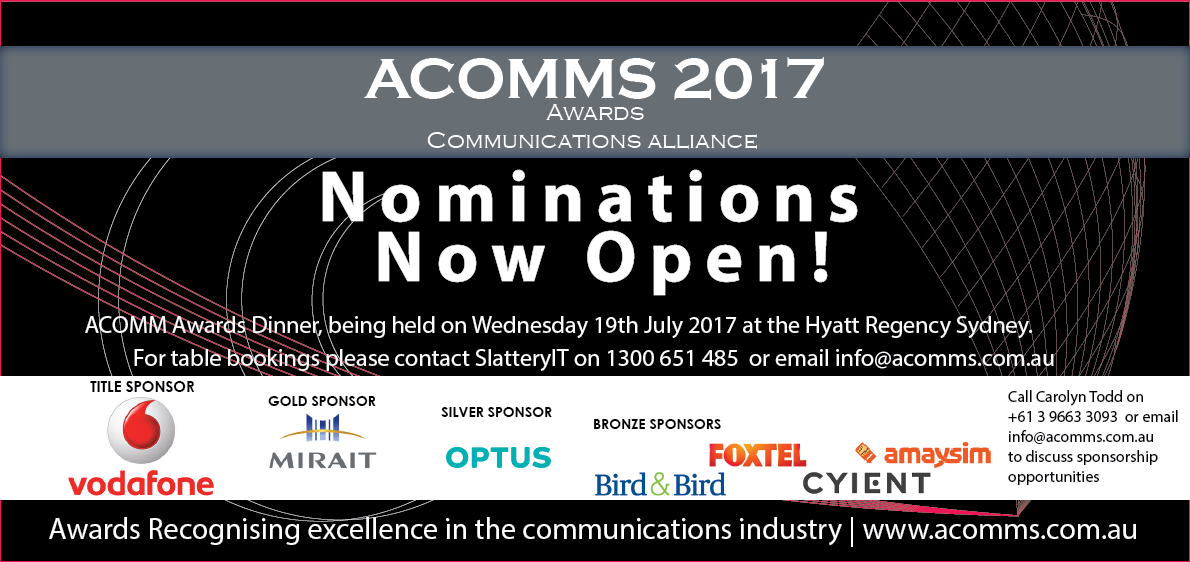 2017 Key Dates
Award Nominations Open: Wednesday, 8 February
Early Bird Dinner Registrations Open: Monday, 6 February
Award Nominations Close: Friday, 21 April
Early Bird Dinner Registrations Close: Friday, 19 May
Shortlisted Finalists Announced: Wednesday, 14 June
ACOMM Awards Dinner & Winners Announced: Wednesday, 19 July
www.acomms.com.au
Visit the 2016 ACOMMS Awards Dinner photo gallery here and highlights video here.
---
Comms Essentials – Privacy Legislation
Thursday 23 March 2017
Background:
This Communications Alliance Comms Essentials seminar will focus on the recent changes (proposed and effective) to privacy legislation and what the changes mean for telecommunications providers. It will also provide a brief update on developments around the Data Retention Regime and the access to retained data in civil proceedings.
On 23 February 2017, the Privacy Amendment (Notifiable Data Breaches) Bill received Royal Assent with the new provisions becoming effective on 23 February 2018. The new law constitutes a significant change for providers as it requires them to give notice to the Australian Information Commissioner and affected individuals of an eligible data breach. The seminar will examine the new law and consider some of the 'tricky issues' such as the requirement to investigate suspected breaches or the threshold for causing 'serious harm', including emotional harm. The new requirements are especially important against the background of the Data Retention Regime which becomes fully effective on 13 April this year.
In addition to the Notifiable Data Breaches Bill, the seminar will provide insights into the Privacy Amendment (Re identification Offence) Bill 2016 which is now before the Senate. This Bill is set to amend the Privacy Act to prohibit conduct (and make it a punishable criminal or civil offence) related to the re-identification of de-identified personal information published or released by Commonwealth entities.
Who should attend:
Communications Alliance members and other stakeholders
Program:
"Data Retention Update"
Speaker: Christiane Gillespie-Jones, Director Program Management, Communications Alliance
"Notifiable Breaches Bill and Re-Identification Offence Bill – Legal Overview"
Speaker: Patrick Fair, Partner, Baker & McKenzie
"Data Breaches – Investigation, Remediation, Notification – Real Life Considerations"
Speaker: Jason Holandsjo, Chief Privacy Officer & Chief Compliance Officer, Telstra
Q&A
Facilitator: John Stanton, CEO, Communications Alliance
When: Thursday, 23rd March 2017, 9:30am to 12:00pm
Where: Sydney - Baker & McKenzie, Level 27, AMP Centre, 50 Bridge Street, Sydney
Melbourne - Baker & McKenzie, Level 19, 181 William Street, Melbourne is a video link to Sydney
Register: Here
---

Industry Code to Assist Helplines and Victims of Life Threatening and Unwelcome Communications
A revised industry Code of Practice that provides greater protection for Australian consumers against threatening and unwelcome communications, came into force today after being registered by the telecommunications regulator.
The Handling of Life Threatening and Unwelcome Communications Code, replaces the previously published 2010 version of the Code. The new Code puts in place a standard procedure for the cooperative handling by suppliers and the National Relay Service Provider (NRSP) of communications which traverse the network(s) of one or more suppliers and are connected with life-threatening communications or a pattern or specified number of unwelcome communications.
The revised Code, registered today by the Australian Communications and Media Authority (ACMA), was developed by Communications Alliance and its members, in close collaboration with consumer representatives and Lifeline Australia, which represented the interests of Australian Helpline groups.
The Code, for the first time, incorporates rules and procedures to aid in the management and investigation by suppliers, of unwelcome communications received by Helplines.
Thousands of calls made each year to Helplines, often handled by volunteers, are identified as being 'unwelcome' calls, including nuisance calls and those that are harassing, menacing or threatening.
The new rules and procedures will assist in identifying the worst of these offenders and free up valuable resources to ensure Helplines like Lifeline Australia can take more calls from people experiencing challenges such as relationship breakdown, employment issues, mental illness and profound loneliness. The Code allows service providers to suspend services to repeat offenders who ignore a warning to stop making unwanted calls. Communications Alliance CEO, John Stanton, acknowledged the time and effort given by all members of the working committee.
"Lifeline and other Helpline operators offer a vital service to many thousands of Australians in distress and in vulnerable situations. These organisations often operate on limited resources and with the help of generous volunteers.
"It is crucial that their operations – which can mean the difference between life and death, despair and hope - are not hampered by irresponsible or malicious individuals," Mr Stanton said.
Lifeline Australia CEO Pete Shmigel welcomed the new version of the Code, saying the national charity's highest priority was supporting its volunteer workforce of more than 4,000 Crisis Supporters.
"Our highly skilled and compassionate volunteers are on the frontline of Australia's suicide emergency,' Mr Shmigel said. 'The new Code will allow them to do more of what they do best—providing caring and non-judgemental support to Australians in crisis and sparing countless individuals, families and whole communities the profound heartache of losing someone to suicide."
Two industry Guidance Notes were developed in parallel with the revised Code. A Consumer Process Guidance Note to assist consumers and a Helpline Threshold Guidance for Helplines and Industry.
---

Internet of Things Security Guideline Launched to Counter Threats to Privacy and Network Resilience in the IoT Age
The increasing connectivity of physical, digital, and human systems, known as the Internet of Things, or IoT, is the hot button technology of the moment and will revolutionise our economies and everyday lives. It is intrinsic not only to many highly anticipated consumer applications like the smart home and connected, self-driving cars but also to a huge number of industrial uses many of which have not yet been anticipated.
While the Internet of Things may promise a boost to the Australian economy of $120B by 2025, the pervasiveness of the IoT also means that security and privacy need to be at the forefront of thinking and technological development to minimise the risks associated with the connected, big data use of IoT.
The IoTAA Security Guideline was launched at KPMG's new Melbourne offices this morning by Gavin Smith, President and Chairman of Robert Bosch Australia, and Chair of the IoTAA Board.
The Federal Minister Assisting the Prime Minister for Cyber Security, the Hon. Dan Tehan MP, delivered a keynote address at the event.
"Managing security risks and protecting user privacy are vital to realising the benefits of digital transformation", says IoT Alliance Australia CEO, Frank Zeichner.
"We see a security agenda as vital to build trust in an IoT-connected world for consumers and business users, as well as an opportunity for Australian cyber security industry", says Mr Zeichner.
Released today, the IoTAA Security Guideline is the first in a series of documents on IoT security and network resilience that IoTAA is set to deliver over the coming months.
The IoTAA Security Guideline provides top-level guidance to CEOs and CIOs, in particular in the industry sectors where IoT is hot right now, including consumer, industrial, agriculture, and smart cities.
The Guideline aims to promote a 'security by design' approach to IoT. "IoT is everywhere, and we are already seeing the insecurity that it can bring. We really want the Guideline to help industry players understand how to practically apply security and privacy for IoT devices", says co-author and outgoing Chair of the IoTAA Workstream on Cyber Security and Network Resilience, Malcolm Shore.
Chair of the IoTAA Executive Council and Communications Alliance CEO, John Stanton, is supportive of the initiative, "It's great that IoTAA published this under a creative commons licence and is engaging with Communications Alliance to publish this excellent work in a second version. A public consultation process will give a wider range of stakeholders the opportunity to review and add value to the document before publishing it as an Industry Guideline – which can then be updated over time as new developments and potential risks become evident."
---

Communications Alliance Welcomes ACCAN Review Recommendations
Communications Alliance has welcomed the recommendations of a Government Review that calls for stronger engagement and information sharing between the telecommunications industry and consumer representative body, ACCAN.
The review of the enabling legislation (section 593(1) of the Telecommunications Act 1997, carried out by the Department of Communications and the Arts, recommended that industry continue to fund ACCAN's activities – industry presently pays around $2 million per annum for this purpose.
It also called for ACCAN and Communications Alliance to review and update the Statement of Intent under which the two bodies meet and share information about current and emerging issues in the telecommunications sector – a process which has already been commenced by Communications Alliance.
Communications Alliance CEO, John Stanton, also welcomed a recommendation that Government and industry bodies be given a stronger role in setting priorities for the research grants program that ACCAN is funded to operate.
---
New Members
Communications Alliance is pleased to welcome the following new members;
Holding Redlich

Holding Redlich has been a leading provider of high quality and responsive legal services and solutions to the technology, media and communications (TMC) industries for more than 30 years.

Holding Redlich combine their knowledge of the relevant areas of law with their experience of the regulatory environment and their understanding of how these industries operate to assist their clients to achieve successful, efficient and cost-effective commercial outcomes.

Their expertise extends beyond the law – a number of their partners hold or have held board positions in companies and government agencies within the sector and provide policy advice to State and Commonwealth Governments.

Holding Redlich regularly help clients commercialise intellectual property rights, protect their brands and enforce their rights.

Their Technology, Media & Communications clients include television and radio networks, content producers and distributors, digital media companies, government agencies, data and information service providers, digital and print publishers, technology suppliers and start-ups.

auDA

.au Domain Administration Ltd (auDA) is the policy authority and industry self-regulatory body for the .au domain space. In December 2000, the Australian Government formally endorsed auDA as the appropriate body to administer the .au domain space. The Government holds reserve powers in relation to domain names under the Telecommunications Act 1997.

In October 2001, ICANN recognised auDA as the suitable operator for .au under a Sponsorship Agreement.

As part of that sponsorship agreement auDA is responsible for the management of the .au zone file, ensuring it is accurate, up to date and continuously available. auDA achieves this through the technical management of the primary and (multiple) secondary name servers that make up part of the .au Domain Name System infrastructure.

auDA oversees and deploys new technologies and initiatives in the .au name space, which includes:
Domain Name System Security Extensions (DNSSEC)
auDA Information Security Standard (ISS) (auDA is ISS compliant)

Role of auDA

auDA performs the following functions:
develop and implement domain name policy
license 2LD registry operators
accredit and license registrars
implement consumer safeguards
facilitate .au Dispute Resolution Policy
represent .au at ICANN and other international fora
technical management of the .au zone file
manage and maintain a secure and stable Domain Name System
---
CeBIT 2017
When: 23 – 25 May 2017
Where: International Convention Centre Sydney, Darling Harbour, Sydney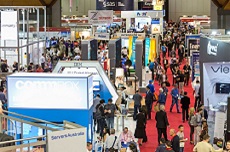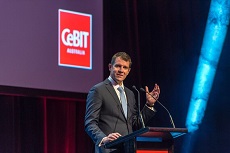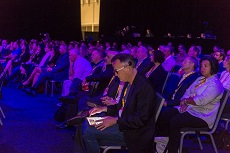 CeBIT Australia is Australasia's largest business technology event, and in 2017 it will be taking place in the brand new International Convention Centre in Darling Harbour Sydney.
This year's program features conferences covering the latest in Big Data and Analytics, Cybersecurity, Cloud Technology, FinTech, Enterprise Mobility, Digital Health and eGovernment.
Receive $100 off our 3 Day Conference Pass or a 1 Day Conference Pass with the promo code CA17.
View the program here or register here
---