---
ACOMMS 2017 – SAVE THE DATE – Wednesday, 19 July 2017
The ACOMM Awards - a glittering showcase of telco industry achievement - are proudly presented by Communications Alliance.

The winners of the 2017 ACOMM Awards will be unveiled and celebrated during the 11th annual ACOMM Awards Dinner - to be held on Wednesday, 19 July 2017 at the very elegant Hyatt Regency Sydney.
Visit the 2016 ACOMMS Awards Dinner photo gallery here and highlights video here.
2017 Key Dates
Award Nominations Open: Monday, 6 February
Early Bird Dinner Registrations Open: Monday, 6 February
Award Nominations Close: Friday, 21 April
Early Bird Dinner Registrations Close: Friday, 19 May
Shortlisted Finalists Announced: Wednesday, 14 June
ACOMM Awards Dinner & Winners Announced: Wednesday, 19 July
ACOMMS 2017 - Sponsorship Opportunities
Sponsoring the ACOMMS provides a unique opportunity for brand positioning. As a sponsor, you will have your organisation highlighted in front of a sell-out audience of more than 500 - including some of the most influential professionals and decision-makers in the telco industry. Please contact Carolyn Todd on +61 3 9663 3093 or email info@acomms.com.au to discuss sponsorship opportunities at the 2017 ACOMM Awards.
---
The Conundrum Surrounding Metadata
Article by John Stanton CEO, Communications Alliance & Chris Althaus, CEO, AMTA, published in Commsday, 2 February, 2017
There has been lively – but sometimes poorly informed – public debate of late about the current Federal Government consultation on whether civil litigants should be able to access the metadata held by telecoms service providers.
Numerous politicians and commentators have warned we are in danger of heading into troubled and uncharted waters, as civil litigants leap at the opportunity to use metadata to press their case in divorce proceedings, commercial disputes and a wealth of other civil cases.
The simple fact is that the metadata retained by service providers (for operational purposes, to comply with industry regulation and to assist law enforcement agencies), have always been available to civil litigants, provided they can get a subpoena or a court order requiring it to be produced.
The core problem is that the government's attempt to legislate in this area has imposed a complex, costly and somewhat unworkable new framework.
There are no published figures as to how many enquiries from litigants and/or subpoenas or court orders are being received by industry, but the major carriers have provided information on this to government, in-confidence, and report that there is a regular stream of requests from lawyers acting on behalf of their clients, including civilians and government agencies, that are involved in civil court action.
So, what change is the government considering making and what are the likely implications?
The answers lie in the fact that the government's mandatory Data Retention Regime requires many more types of data to be retained by telcos and for longer periods.
For example, locational information that previously might have been kept for a matter of weeks, or records of dynamic IP addresses assigned to individual customers, that might previously have been retained for three or six months, now must be retained for a full two years.
Categories of data that typically were not retained at all in the past – such as records of unsuccessful phone calls, emails sent to non-existent email addresses, the size of email attachments – also must be retained for two years.
Regrettably, the enabling legislation has created a complex and messy situation for service providers and civil litigants alike, because it has attempted to put in place a compromise solution that doesn't really work.
Bear with us – this is a bit of a mind-bender…..
Under current legislation, any data that a service provider retained before the implementation phase of the Data Retention Regime, which concludes on 13 April 2017, are available for civil litigation.
However, if a service provider is retaining metadata purely in order to comply with the Data Retention Regime after 13 April 2017, then those data are not available to civil litigants under the current legislation.
So, say for example I am a telco who previously kept six months' worth of data about which IP address is assigned to which customer at a specific point in time, but now I have to keep two years' worth of that data set.
If I get a court order via a civil litigant wanting IP address data, I then must figure out whether each piece being sought is eligible to disclose to the court, based on when I collected it, how long I had kept it and whether it was kept for operational purposes or to comply with data retention.
So, the issue is not whether civil litigants can get metadata it is a question of how much data they can potentially access, and how difficult it is to turn the current legislative requirements into reality.
Service providers can do without the additional time and expense involved in trying to operate in such an untidy environment and don't want to be in the position of having to make judgement calls about whether data should or should not be made availa- ble to the Courts.
Then there is the question of liability for service providers. The Telecommunications Act 1997 gives liability protection to service providers who supply metadata to law enforcement and security agencies in line with the existing rules. You guessed it – the liability protection does not extend to metadata supplied to civil litigants who have obtained a subpoena or court order.
It's a mess.
All that before even looking at privacy considerations – a complex debate we will happily leave to privacy and civil justice experts.
From a purely operational point of view, therefore, the best solution would appear to be either "all" or "nothing".
That is, either:
*make all of the retained metadata potentially available to civil litigants; or
*remove civil litigants' existing right to access the metadata that were being retained prior to the Data Retention Regime coming into force or that are being retained under the regime but are available because they are also used for other purposes.
The government faces an unenviable task in trying to reach an equitable and agreed solution to a self-generated problem.
What's more, this is far from being the only problem in the existing legislation.
The way that "Communication" is defined in the Act appears to be unintentional over-reach because it seems to capture machine-to-machine communication – the ever- growing volume of messaging within the so-called Internet of Things.
This type of communication when a parking meter reports back to headquarters or a soft-drink vending machine reports that its cointray is full is highly unlikely to be of interest to police or security agencies. But if machine-to-machine data is captured and must be retained by service providers this dramatically increases the volume of data that must be stored and accessible and the cost of doing so for little or no useful purpose.
There is also still uncertainty about whether telcos are required by the Act to keep records of their customers' internet browsing history. The government says "No", but the wording of the legislation is not so clear. There is also the entertaining requirement to encrypt all the data but at the same time the telco can keep a separate, unencrypted set of the same data so what is being achieved?
We have raised these and other issues with government and suggested, at the very least, there ought to be a bipartisan effort to clean up the legislation, alongside the attempt to figure out how best to deal with the civil litigant conundrum.
---
Further Improvements in Latest Telecommunications National Customer Satisfaction Survey
The latest Telecommunications Customer Satisfaction Survey has revealed further improvements in four key satisfaction metrics, including overall satisfaction, the ease of understanding bills, product satisfaction and the ease of contacting service providers, Communications Alliance CEO John Stanton said today.
The quarterly national survey, carried out for Communications Alliance by Roy Morgan Research, shows an equal record high in the percentage of customers satisfied, very satisfied or neutral about the service they receive – a figure of 85%, compared to 82% in the previous quarter and 80% in the first poll conducted at the beginning of 2013.
The survey, covering the period October-December 2016, is the thirteenth wave in an ongoing quarterly series designed to measure the overall experience of Australian telco customers – particularly in relation to key customer 'touch points' covered by the revised Telecommunications Consumer Protections (TCP) Code 2015.
The Wave 13 survey results show a slight improvement in customer satisfaction with the ease of contacting their service provider – 76% of customers were satisfied/neutral, compared to 75% in the previous quarter and 71% at the time of the first survey.
There was also a modest improvement in satisfaction around the ease of understanding bills - 84% of respondents satisfied/neutral, up from 82% in the previous quarter and in the first wave survey.
Satisfaction with complaint handling remained at 66% satisfied/neutral – consistent with the previous quarter and the first wave survey.
The full survey results are available here.
---

Submission on the ACMA Five Year Spectrum Outlook
The Satellite Services Working Group (SSWG) has provided a response to the Australian Communications and Media Authority's Five-year spectrum outlook 2016–20: The ACMA's spectrum management work program (the FYSO).
The FYSO is published annually and reports on the rolling five-year spectrum policy implementation plan together with a four-year work spectrum management program, with its origins in the outcomes of the ITU World Radiocommunications Conference (WRC). In our highly dynamic and rapidly evolving market, the FYSO is becoming more essential for our members to stay across the ACMA's execution of the Government spectrum policies and implementation of spectrum-related activities under its Work Program.
The SSWG represents a wide cross-section of satellite spectrum interests and has provided in this submission a useful perspective in how the FYSO can better fulfil industry's needs into the future. Recommendations on the structure of the FYSO and the timeliness of when information becomes available to the industry has been discussed.
The SSWG has also take the opportunity to raise a number of issues that are of vital interest to the satellite industry, including those related to the Ka, S, C, L, V and Q spectrum Bands, ESIMs, refarming and the burgeoning world of connected vehicles.
The submission is available from the Communications Alliance submissions page.
---
CeBIT 2017
When: 23 – 25 May 2017
Where: International Convention Centre Sydney, Darling Harbour, Sydney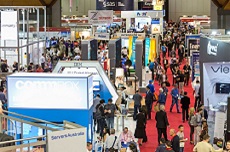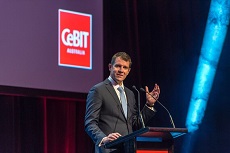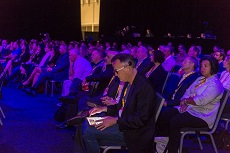 CeBIT Australia is Australasia's largest business technology event, and in 2017 it will be taking place in the brand new International Convention Centre in Darling Harbour Sydney.
This year's program features conferences covering the latest in Big Data and Analytics, Cybersecurity, Cloud Technology, FinTech, Enterprise Mobility, Digital Health and eGovernment.
Receive $100 off our 3 Day Conference Pass or a 1 Day Conference Pass with the promo code CA17.
View the program here or register here
---