Issue No 18: 11 July 2017
---
Events

Follow Us on Twitter here Like us on Facebook here
---
ACOMMS 2017- Book your seats now!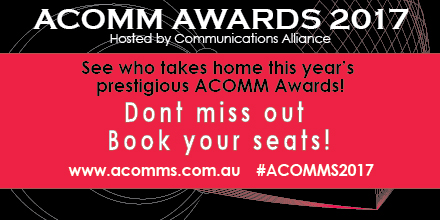 ---
Industry Working to Improve Information Provision on Third-Party Charges
Communications Alliance CEO, John Stanton, welcomed ACCAN's Mobile Third-Party Billing Survey, published by the consumer organisation earlier today.
"The survey is an important contribution to understanding customers' use of and experience with third-party purchases", he said.
"The survey results highlight that third-party billing, such as direct carrier billing and mobile premium services, provides customers with a convenient payment option for digital content, without the need to provide banking or credit card details, by billing these charges directly to a customer's bill or deducting them from a prepaid balance.
"However, the survey also points to room for further improvement in terms of informing customers about the nature of these types of services, the way they work, and how to avoid any unexpected billing.
"Major telecoms providers have already taken steps to reduce the incidence of unexpected third-party purchases and implemented double opt-in solutions for subscription-based services. Having said that, our industry is continuing to look at ways to improve the customer experience in this space. If customers have any questions or concerns about these services, they are encouraged to contact their provider directly."
Mr Stanton also noted that while the industry is working to further improve customer satisfaction in this area, such as clarifying roles and responsibilities as well as messaging around mobile premium services, the overall number of complaints on mobile premium services, which include direct carrier billing, remained at a very low level.
"We acknowledge that not all customers choose to contact the Telecommunications Industry Ombudsman (TIO) over their issues, but also note that the low share of customers who have experienced unexpected charges and subsequently contact the TIO, points to our industry's ability to deal with customer complaints in this area and to resolve issues without the need for TIO involvement.
"Complaints about mobile premium services to the TIO account for around 1.5% of all new complaints made. Mobile premium services also facilitate app downloading, TV show voting and donations, thereby potentially making a default setting of barring such services an undesirable proposition for many mobile customers."
Further information on third-party billing can be found on the ACMA's website A guide to direct carrier billing and on telecom providers' websites. Providers also offer the option of having access to these services barred, or spend limits to be set either on a per transaction or monthly basis. These options are especially useful when the person responsible for paying the bill may not always be the same as the user of the device or when children may obtain access to their parents' mobiles.
Customers should also note that sending a 'STOP' message will prevent further purchases being made as part of the respective subscription service but will not necessarily reverse the first purchase that has been billed after a double opt-in consent has been obtained for a subscription service.

---
Industry Backs Improvements to National Security Bill

Major industry groups today endorsed the recommendations of the Parliamentary Joint Committee on Intelligence and Security (PJCIS), designed to overcome deficiencies in the Government's latest piece of national security legislation.
The PJCIS has recommended a range of amendments to the Telecommunications Sector Security Reform (TSSR) legislation and the further development of associated Administrative Guidelines, which would provide greater clarity and transparency to Industry as it begins the task of attempting to comply with the new security regime.
The industry groups called on the Attorney-General to accept the Committee's recommendations – many of which directly address the problems that Industry identified during its testimony to the PJCIS – before seeking to pass the legislation through Federal Parliament.
The submission to the PJCIS was lodged jointly by a coalition of associations including Communications Alliance, the Australian Information Industry Association (AIIA) and the Australian Mobile Telecommunications Association (AMTA).
Industry also proposed a more definite, 6-month, timeframe for the development of the revised Guidelines recommended by the Committee, to ensure Industry has time to comply before the measures takes full effect.
The TSSR framework, contained within the Telecommunications and Other Legislation Amendment Bill 2016, creates a legislative obligation on service providers to protect telecommunications networks from unauthorised interference, including espionage and other attacks. It also places a range of obligations on Industry to notify security agencies of any changes to networks that could increase the risk levels of those networks.
Communications Alliance CEO, John Stanton, commented: "We always prefer to have amendments captured in the legislation itself, rather than in Guidelines, but the PJCIS has done an excellent job of highlighting to Government the remaining weaknesses in the legislation, and Government should accept the recommendations."
The draft legislation had already been heavily amended in consultations between Industry and Government over the past two years, to remove some of the more serious problems that showed up in the earlier versions.
The PJCIS responded to additional Industry concerns by recommending the creation of new Guidelines to clarify the obligations relating to:
the provision or resale of over-the-top (OTT) services, cloud computing and cloud storage solutions;
infrastructure that is used by service providers to offer services, but is not actually owned or controlled by the service provider; and infrastructure located offshore.
The PJCIS also called on Government to work collaboratively with Industry to create better information sharing relating to possible threats. Industry had pointed out that the legislation created such an obligation on Industry, but no equivalent obligation on Government.
Industry also welcomed a recommendation to strengthen the requirements on Government to report annually to Parliament on the operation of the regime.
But Industry raised concern that the new Guidelines to be developed will only need to be completed by the end of the 12-month period of implementation of the new regime.
"This work should be done within the first 6 months – and with full Industry involvement – so that Industry has some breathing space in which to complete its compliance work, before the legislation takes full effect," Mr Stanton said.

---
Mixed Results on Telecommunications Customer Satisfaction
The latest Telecommunications Customer Satisfaction Survey has produced mixed results, with some key satisfaction metrics remaining steady, but some metrics highlighting areas for industry improvement.
The quarterly national survey, carried out for Communications Alliance by Roy Morgan Research, shows that overall satisfaction with customer service has decreased from last quarter, with 77% of customers reporting they are satisfied/neutral with the level of service provided, in comparison to 80% in the previous survey.
The survey, conducted in June 2017, comes amid a challenging time for industry and consumers, as customer migration to nbn-based services gathers pace and the sharply rising demand for streamed and downloaded video content puts additional pressure on some types of services.
This is the fifteenth wave in an ongoing quarterly survey series designed to measure the overall experience of Australian telco customers – particularly in relation to key customer 'touch points' covered by the revised Telecommunications Consumer Protections (TCP) Code 2015.
The Wave 15 survey results show that customer satisfaction with ease of contacting their provider remains steady at 74% reporting they are satisfied/neutral. Additionally, the proportion of customers satisfied with the ease of understanding their bill has remained fairly steady across previous surveys, with 83% reporting they are satisfied/neutral in the most recent survey, compared to 86%, 84%, and 82% in the prior three quarters.
However, customer satisfaction with complaint handling has continued to decrease, with 60% of customers satisfied or neutral with how their complaints had been handled. This is fairly steady from the prior quarter, at 61%, but a decrease from the previous two quarters where 66% of customers had reported they were satisfied/neutral.
Customer satisfaction with the information provided on telecommunications products remains high at 82% satisfied/neutral, but this is a slight dip from the previous quarter's high point of 88%.
Industry is engaging in ongoing discussions on strategies to improve customer service and satisfaction across products.
The full survey results are available at the following link.

---
Communications Alliance Submission to the DoCA Discussion Paper on a Proposed Civil Penalties Regime for Non-Consensual Sharing of Intimate Images
Communications Alliance has made a submission in response to the Department of Communications and the Arts Discussion Paper on the proposed Civil penalties regime for non-consensual sharing of intimate images.
In its submission Communications Alliance focuses on Recommendation 14 of the Discussion Paper, i.e. whether "the Commissioner [should be] be able to seek a court order to require Internet Service Providers (ISPs) to block individual website(s) in extreme cases where all other avenues have been exhausted"

The submission includes the following points:

The principles of indemnity and cost recovery as currently included in Section 313 of the Telecommunications Act 1997 must be mirrored in any enabling legislation. Also, the measures outlined in the draft Guidelines regarding the use of Section 313 of the Act ought to apply to the Commissioner's Office.
Website blocking is a relatively blunt tool and has the potential for comparatively easy evasion by offending website operators as well as internet users. It also has the potential to result in inadvertent 'over-blocking'.
It is often not possible to block all websites containing the non-consensually shared intimate images due to the nature of the internet and the ability of the community to further share images across a vast range of websites. C/CSPs are also unable block access to individual parts of popular websites, e.g. individual Facebook users.
Any civil penalties regime ought to be supported by a strong educational campaign which not only includes the civil penalties regime but extends to appropriate online behaviour in general.
Australia already suffers from a fragmented approach to online safety and cyber security and the lack of an overarching online safety and cyber security framework which could take into account the wider societal issues. Any further piecemeal approach to regulation and legislation ought to be avoided, to limit overall inefficiencies, sub-optimal policies/regulations and practical difficulties.
---
Comms Essentials – Fraud and Mobile Payments
Wednesday, 2nd August 2017
Background:
This Communications Alliance Comms Essentials seminar will focus on fraud committed using a mobile device and mobile payments more generally.
Given consumers' increasing preference to use mobile devices for all kinds of everyday activities, it is not surprising that these devices are also being used to commit or attempt to commit fraud, particularly for financial transactions.
Also of interest for our industry is the arrival of the New Payments Platform with the launch targeted for November 2017. The new platform will enable real-time clearing and settlement for simple or complex payment solutions, between two people or between many different parties. It is expected that a large number of financial institutions and other organisation will connect to the platform over time.
Fraud, ID theft and mobile payments, the way they relate to each other and what can be done to minimise the former while facilitating the latter is a topic of priority for the telecommunications industry. An informed debate will assist all stakeholders to move into a more secure mobile payments future.
Who should attend:
Communications Alliance members.
PLEASE NOTE THAT THIS IS A MEMBERS AND SELECTED STAKEHOLDERS EVENT ONLY.

Program:
"Fraud using a mobile phone: how, when, who – an overview"
Speaker: David Pegley, Managing Director, Australian Financial Crimes Exchange

"New Payments Platform – what is it and what will it mean?"
Speaker: Adrian Lovney, Chief Executive Officer, NPP Australia

"How to deal with ID theft?"
Speaker:(invited) Professor David Lacey, Managing Director, IDCARE, & Professor for Cybersecurity, University of Sunshine Coast

"Liability issues for telecoms providers for fraud and identity theft"
Speaker: Baker McKenzie

Q&A
Facilitator: John Stanton, CEO, Communications Alliance
When: Wednesday, 2nd August 2017
Where: Sydney - Baker McKenzie, Level 27, AMP Centre, 50 Bridge Street, Sydney
Melbourne - Baker & McKenzie, Level 19, 181 William Street, Melbourne is a video link to Sydney
Register: Here
PLEASE NOTE THAT THIS IS A MEMBERS AND SELECTED STAKEHOLDERS EVENT ONLY.

---
New Member
| | |
| --- | --- |
| Tasmanet Pty Ltd | TasmaNet Telco is a fully-featured set of telecommunications services designed to suit the unique requirements of businesses operating in Tasmania. Whether you need highly secure and reliable data centre operations, invisible managed private networks, high-speed internet services, or the confidence of cloud backups, TasmaNet Telco is here for you. |
---
Telco Together raffle at the 2017 ACOMM Awards


Show your support for people in need by getting a ticket in the Telco Together raffle at the 2017 ACOMM Awards. Prizes are;

1st Prize: Day on a Super Yacht Cruising Sydney Harbour for 10 people $15,000. Use of 121ft motor yacht, fully crewed including gourmet lunch and refreshments prepared by private chef. Great for an executive retreat or employee reward.
Special thanks Acquire Business Outsourcing Solutions for this very generous prize donation
2nd Prize: Luxury Byron Bay Escape, worth $1,500
Donated by Inabox
3rd Prize: $500 Westfield Shopping Voucher
Donated by the Vocus Group
4th Prize: Sydney Kings NBA Basketball Tickets Package worth $250
Donated by the Sydney Kings.
---
ACOMM GUESTS - have you heard?

---
Pacific Telecommunications Council (PTC) is Now Accepting Applications

Application deadline is 2 September 2017 by 2:00 PM EAST

PTC's Young Scholar Program (YSP) is designed to recognize, encourage, and support up-and-coming scholars in the field of information and communication technologies. Selected participants will be invited to present their research at PTC's 40th anniversary conference.

Applications are now being accepted for PTC's 2018 YSP. PTC's YSP offers promising young scholars the opportunity to:

Present their research in a high-visibility academic and industry forum
Engage in research discussions with esteemed academic faculty
Participate in PTC'18 activities
Gain exposure to current industry issues and trends
Meet PTC'18 attendees to share ideas, gain new insights, and identify practical research applications
Network with industry professionals, members of international organizations and NGOs, government officials, and academics from more than 75 countries
To learn more about the YSP program, please email
youngscholars@ptc.org
.or click
here
.