---
ACOMMS 2017- Book your seats now!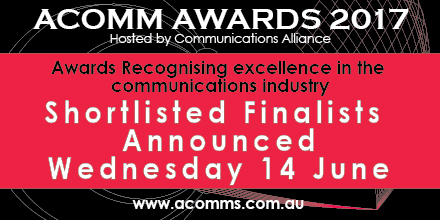 Shortlisted Finalists Announced: Wednesday 14 June
ACOMM Awards Dinner & Winners Announced: Wednesday 19 July

Visit the 2016 ACOMMS Awards Dinner photo gallery here and highlights video here.
---
Comment Sought on Draft Industry Guideline DR G654:2017 Internet of Things Security

Communications Alliance is seeking public comment on a draft guideline designed to provide comprehensive, top-level guidance to:

promote a 'security by design' approach to the Internet of Things (IoT);
assist industry to understand the practical application of security and privacy for IoT device use;
be utilised by the IoT industry and digital service providers that use or provide support services for IoT deployments; and
assist industry to understand the relevant legislation around privacy and security.
This Guideline was originally developed and published by IoT Alliance Australia (IoTAA). Communications Alliance, as a founding member of IoTAA and as the primary telecommunications industry body in Australia, with established structures for public consultation and document revision processes, has agreed to review the IoTAA Internet of Things Security Guideline and to seek feedback from a variety of stakeholders through a process of public consultation.
Any comments received during public comment will be considered by a Working Group and, where appropriate, be incorporated into a revised version of the Guideline and published as Communications Alliance Industry Guideline G654:2017 Internet of Things Security. It is anticipated that IoTAA will equally adopt the revised version.
A copy of the Guideline can be found here on the Communications Alliance website.
Comments can be submitted via the Submit Comments Form.

PUBLIC COMMENT PERIOD CLOSES AT 5:00 P.M. (AEST) ON FRIDAY 7 JULY 2017.
---
Comment Sought on Draft Industry Code DR C555:2017 Integrated Public Number Database (IPND)
Communications Alliance is seeking public comment on the revised draft Code C555:2017 Integrated Public Number Database (IPND) and its associated draft Guideline G619:2017 IPND Data.
The Integrated Public Number Database (IPND) is an industry-wide database of all Public Number Customer Data (PNCD). The IPND serves as a repository of PNCD which broadly includes the Number, the Customer name, service address and Directory Related Services' information which can be used, for example, to assist in the provision of emergency services and law enforcement. The IPND has the benefit of simplifying the provision of, and access to personal information necessary to manage public safety and well-being.
This 2017 revision seeks to deliver on the specific recommendations that came out of the 2015 IPND Review by the Department of Communications and the Arts, which were:

Emphasis on stronger industry practices to support IPND Data Providers use of validation practices to improve data quality;
Developing guidance for Data Providers to implement processes that allow subscribers to easily view and correct their IPND records;
Establishment of awareness raising measures to highlight to subscribers the importance and need for providing correct information to their CSP, in order to ensure the IPND record is accurate.
The Code reflects practices that are the only achievable and practical approach to dealing with these matters.
This revision also aligns definitions and service types with the Numbering Plan.
The draft Code can be downloaded from the Drafts for Public Comment page along with further information on how to submit comments. Information on the Working Committee which developed the Code, including the Terms of Reference, can be found here.
A copy of the associated Draft Industry Guideline DR G619:2017 IPND Data can be found here.

All submissions received will be made publicly available on the Communications Alliance website unless the submitter requests otherwise.

PUBLIC COMMENT PERIOD CLOSES AT 5:00 P.M. (AEST) ON FRIDAY 7 JULY 2017.
---
Pacific Telecommunications Council (PTC) is Now Accepting Applications

Application deadline is 2 September 2017 by 2:00 PM EAST

PTC's Young Scholar Program (YSP) is designed to recognize, encourage, and support up-and-coming scholars in the field of information and communication technologies. Selected participants will be invited to present their research at PTC's 40th anniversary conference.

Applications are now being accepted for PTC's 2018 YSP. PTC's YSP offers promising young scholars the opportunity to:

Present their research in a high-visibility academic and industry forum
Engage in research discussions with esteemed academic faculty
Participate in PTC'18 activities
Gain exposure to current industry issues and trends
Meet PTC'18 attendees to share ideas, gain new insights, and identify practical research applications
Network with industry professionals, members of international organizations and NGOs, government officials, and academics from more than 75 countries
To learn more about the YSP program, please email
youngscholars@ptc.org
.or click
here
.