---
Nominate for the ACOMMS IoTAA's Impact Award

For the first time IoTAA is offering the IoT Impact Award to be presented at the ACOMM Awards 2017. IoTAA will recognise an organisation or company that has positively impacted the adoption of the Internet of Things in the Australian economy.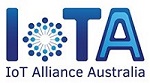 The demonstrated impact can be in any area: IoT use cases, security, data sharing, interoperability, funding of IoT start-ups, awareness and education of IoT, thought leadership or partnership creation.
Nominations close 5 June 2017.
More information at
http://www.acomms.com.au
/nominations.php
---
Complaints in Context Increase during January to March 2017
Complaints to the Telecommunications Industry Ombudsman, as a proportion of services in operation (SIO), were 8.4 complaints per 10,000 for the period January to March 2017.
Complaints in Context is a quarterly report jointly published by the TIO and Communications Alliance. The report for January to March 2017 can be found
here
.
---
Industry Welcomes ACMA Review Recommendations
Communications Alliance has called on the Government to move quickly to implement the recommendations of its review of industry regulator, the Australian Communications and Media Authority (ACMA), to give certainty and direction to the body.
Communications Alliance CEO, John Stanton, welcomed the Government's endorsement today of the 27 recommendations of the review, which was initiated in June 2015.
"Moves to strengthen the Authority through more full-time Members, provide for the Deputy-Chair to take on more of a CEO-like role, set clearer objectives for the regulator and press for greater self-regulation are all positive steps,
"But Government should move expeditiously to put new arrangements in place, given the long period of organisational 'limbo' within which the ACMA has had to operate.
"It is almost two years since the review was announced and almost exactly one year since the recommendations were published.
"During the past 12 months the ACMA has operated in a very uncertain climate, which has put stress on the organisation in a rapidly changing environment."
Mr Stanton paid credit to ACMA staff and in particular to Acting Chair Richard Bean and Authority Member James Cameron for their leadership during this period.
"In fact, the ACMA has already begun a culture shift - becoming more timely in its decision-making, more pragmatic and responsive in its dealings with industry during the past year or so - and that is very welcome."
Mr Stanton said that many of the review recommendations were in line with submissions put forward by industry.
"Having a broader group of Authority members with specific skill sets, and less reliance on part-time members, should bolster the Authority's ability to cope with an ever-broadening set of challenges."
"The Internet of Things (IoT), for example, is a massive game-changer for the landscape that the ACMA is charged with regulating - having deep expertise in areas such as IoT, over-the-top applications and artificial intelligence will be vital to enable the regulator to navigate the new environment."
"This is even more important in light of the Government's acceptance of the recommendation to continue reform with the aim of establishing a new, contemporary, fit-for purpose telecommunications regulatory framework - a daunting but essential task to which Industry stands ready to contribute constructively."
---
New Working Committee to Revise Cabling Installation and Cabling Products Standards
Communications Alliance is seeking nominations to participate on a project to revise the two Communications Alliance cabling-related Standards:
AS/CA S008 applies to cabling products, including cable and related customer equipment, intended for connection to the customer side of the boundary of a telecommunications network. AS/CA S009 applies to the installation and maintenance of fixed or concealed cabling or equipment that is connected to a telecommunications network, including cord/cordage.
These Standards are called up via instruments under the Telecommunication Act 1997 and hence are mandatory, for suppliers of cabling products (AS/CA S008) and for those involved in carrying out telecommunications cabling work in the customer's premises (AS/CA S009). Both Standards are being revised as a part of our scheduled five-year publication review.
Included in the areas for revision are: remote power feeding, the fire rating of cables, the suitability of cabling products, optical safety labelling, optical fibre cords, fusion splicing, cable material, definitions, underground conduit markings, lift travelling cables, compatibility of modular plugs and sockets, cabling between buildings, equipotential bonding and pits.
Further information on the new committee WC80 and how to nominate can be found on our
website
. Nominations close on 7 June 2017.
---
ACOMMS 2017 Key Dates
Shortlisted Finalists Announced: Wednesday 14 June
ACOMM Awards Dinner & Winners Announced: Wednesday 19 July

Visit the 2016 ACOMMS Awards Dinner photo gallery here and highlights video here.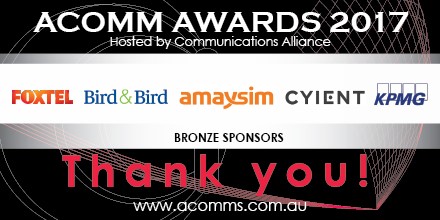 ---
Pacific Telecommunications Council (PTC) is Now Accepting Applications

Application deadline is 2 September 2017 by 2:00 PM EAST

PTC's Young Scholar Program (YSP) is designed to recognize, encourage, and support up-and-coming scholars in the field of information and communication technologies. Selected participants will be invited to present their research at PTC's 40th anniversary conference.

Applications are now being accepted for PTC's 2018 YSP. PTC's YSP offers promising young scholars the opportunity to:

Present their research in a high-visibility academic and industry forum
Engage in research discussions with esteemed academic faculty
Participate in PTC'18 activities
Gain exposure to current industry issues and trends
Meet PTC'18 attendees to share ideas, gain new insights, and identify practical research applications
Network with industry professionals, members of international organizations and NGOs, government officials, and academics from more than 75 countries
To learn more about the YSP program, please email
youngscholars@ptc.org
.or click
here
.
---
CeBIT 2017
When: 23 – 25 May 2017
Where: International Convention Centre Sydney, Darling Harbour, Sydney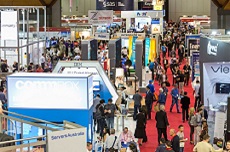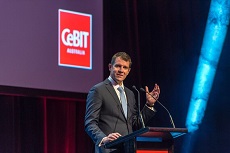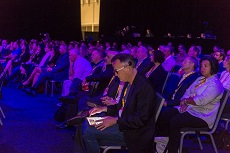 CeBIT Australia is Australasia's largest business technology event, and in 2017 it will be taking place in the brand new International Convention Centre in Darling Harbour Sydney.
This year's program features conferences covering the latest in Big Data and Analytics, Cybersecurity, Cloud Technology, FinTech, Enterprise Mobility, Digital Health and eGovernment.
View the program
here
or register
here