ACOMMS 2017 Key Dates

Early Bird Dinner Registrations Close: Friday 19 May
Shortlisted Finalists Announced: Wednesday 14 June
ACOMM Awards Dinner & Winners Announced: Wednesday 19 July
Visit the 2016 ACOMMS Awards Dinner photo gallery here and highlights video here.
---
Further Improvements in Latest Telecommunications National Customer Satisfaction Survey

The latest Telecommunications Customer Satisfaction Survey has revealed further improvements in three key satisfaction metrics, including the ease of understanding bills, information provided on telecommunications products, and minimising unexpectedly high bills.

The quarterly national survey, carried out for Communications Alliance by Roy Morgan Research, shows that work by the telecommunications industry to provide tools to customers to manage their usage and bills has been having a positive impact. The percentage of customers who received an unexpectedly high bill has consistently decreased in each wave of the survey, down from 34% in the first wave conducted at the beginning of 2013 to 26% in the most recent quarter.

The survey, covering the period January - March 2017, is the fourteenth wave in an ongoing quarterly series designed to measure the overall experience of Australian telco customers – particularly in relation to key customer 'touch points' covered by the revised Telecommunications Consumer Protections (TCP) Code 2015.

The Wave 14 survey results show that overall satisfaction has remained steady despite complications involved in the nbn network roll out, with 66% of customers reporting they are satisfied or very satisfied about the service they receive, remaining the same from the previous survey, and compared to 65% in the first poll conducted at the beginning of 2013. Other measures which have remained steady include customer satisfaction with the ease of contacting their provider.

There have been continued increases in customers satisfied with ease of understanding their bill. 86% of respondents were satisfied/neutral, up from 84% in the previous quarter and 82% in the quarter before that.
Customers reporting that they were very satisfied with information on telecommunications products increased significantly from 23% to 31%, with overall 88% of customers reporting they were satisfied/neutral compared to 86% in the previous quarter.

However, customer satisfaction with complaint handling has decreased. 61% of customers who made some form of complaint to their telecommunications provider in the last 6 months reported that they were satisfied/neutral with how their complaint was handled, in comparison to 66% satisfied/neutral in the previous survey. Industry is discussing how best to address these concerns and increase customer satisfaction.

The full survey results are available here.

---
Telecommunications financial hardship guide updated

A second version of Responding to Customers in Financial Hardship: Principles and Practices for Telecommunications Service Providers was released 1 May following a consultative process including telecommunications industry and financial counselling representatives with the assistance of the Telecommunications Industry Ombudsman. The guide sets out principles and practices that telecommunications and internet service providers may use when dealing with consumers in financial hardship.

The updated guide reflects changes in how consumers use telecommunications services and supports relevant recommendations of the Victorian Royal Commission into Family Violence.

"The updated guide explicitly recognises that family violence can contribute to financial hardship among its victims and lists it as an express criterion for financial hardship assistance," said Communications Alliance CEO John Stanton. The guide also highlights the importance of access to telecommunications services for people who have experienced family violence.

The document builds on provisions in the Telecommunications Consumer Protections (TCP) Code. It recommends providers take a broad perspective to consumer financial hardship and provides guidance on a variety of ways to assist consumers experiencing financial hardship.

"Revising the principles and practices document ensures that examples of best practice reflect the changing nature of essential telecommunication services," said Financial Counselling Australia Chief Executive Officer Fiona Guthrie.

"The revised guide calls for review once every three years by suppliers and consumer representatives, encouraging ongoing collaboration to assist consumers."

The Telecommunications Industry Ombudsman facilitated the collaborative approach to the revision and convened a roundtable in 2016. Judi Jones, TIO, said that the updated version of the guide "demonstrates the usefulness of the original guide and strength of the principles-based approach to assist consumers."

The revised guide can be found here.

---
Broadband Education Package to Help Consumers Improve Their Online Experience
A new education package to help Australian consumers better understand the factors that can influence the performance of their broadband service has been released by the telecommunications industry.

The online package can help consumers to improve their customer experience when using broadband connections. It also provides trouble-shooting tips and advice on interactions with Internet Service Providers (ISPs).

This material, available here, was assembled by ISP members of Communications Alliance, with valuable input from other stakeholders, including the Department of Communications and the Arts, the Australian Communications and Media Authority(ACMA), the Australian Consumer and Competition Commission (ACCC) and the Telecommunications Industry Ombudsman (TIO).

Communications Alliance CEO, John Stanton, noted there had been much public and regulatory commentary of late about the performance of broadband services
in Australia.

"That's not surprising, given the importance that Australians place on broadband's role in facilitating their daily personal and business interactions,

"But many consumers have found it difficult to understand the differences between various broadband technologies, what factors can influence the performance of each, what they should look for when choosing a broadband service, what they can do to improve the performance of their service and what to do if something goes wrong,
"Some factors are outside the consumers' control, but the information released today is designed to give many consumers a broader understanding of how the technology works and the knowledge to positively influence the factors that they can control."

The information is available to any stakeholder that wishes to publish it or make it available online, and can be found at http://commsalliance.com.au/BEP.

The package will be updated periodically to take account of technological and other developments.

---
Pacific Telecommunications Council (PTC) is Now Accepting Applications

Application deadline is 2 September 2017 by 2:00 PM EAST

PTC's Young Scholar Program (YSP) is designed to recognize, encourage, and support up-and-coming scholars in the field of information and communication technologies. Selected participants will be invited to present their research at PTC's 40th anniversary conference.

Applications are now being accepted for PTC's 2018 YSP. PTC's YSP offers promising young scholars the opportunity to:

Present their research in a high-visibility academic and industry forum
Engage in research discussions with esteemed academic faculty
Participate in PTC'18 activities
Gain exposure to current industry issues and trends
Meet PTC'18 attendees to share ideas, gain new insights, and identify practical research applications
Network with industry professionals, members of international organizations and NGOs, government officials, and academics from more than 75 countries
To learn more about the YSP program, please email
youngscholars@ptc.org
.or click
here
.
---
auDA Direct Registration Survey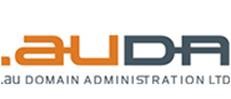 auDA is pleased to announce the commencement of the formal policy development process associated with direct registration in the .au domain name space. This follows the extensive member and stakeholder engagement exercise, undertaken and completed at the end of 2016.

auDA are requesting participation in a short survey about potential changes to the way that .au domain names are registered. The survey takes 10 minutes to complete and your feedback is very important to auDA. Please click on this link to be re-directed to the survey: http://survey.confirmit.com.au/wix/p1786207.aspx

This survey is being conducted by an independent research organisation - ORU. Responses to the survey are confidential and will be collated so that the individual responses cannot be identified.

More information is available here - www.auda.org.au/policies/policy-reviews/au-direct-registration

---
CeBIT 2017
When: 23 – 25 May 2017
Where: International Convention Centre Sydney, Darling Harbour, Sydney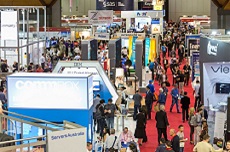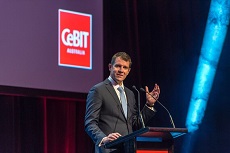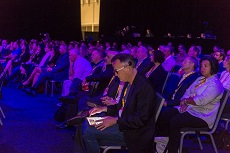 CeBIT Australia is Australasia's largest business technology event, and in 2017 it will be taking place in the brand new International Convention Centre in Darling Harbour Sydney.
This year's program features conferences covering the latest in Big Data and Analytics, Cybersecurity, Cloud Technology, FinTech, Enterprise Mobility, Digital Health and eGovernment.
Receive $100 off our 3 Day Conference Pass or a 1 Day Conference Pass with the promo code CA17.
View the program here or register here
---