---
Industry Seeks Assurance on Data Retention Funding
A coalition of ICT industry groups has written to the major federal political parties to raise concerns regarding the Data Retention Industry Grants Program (DRIGP) and to seek an assurance that payments under the scheme will be made immediately after the 2 July Federal Election.
The Department of the Attorney-General recently indicated publicly that DRIGP grant monies will not be distributed to eligible carriage service providers (CSPs) until after the election.
This further delay to the execution of the DRIGP has significant commercial implications for the ongoing operations of many service providers and for the level of industry compliance with the mandatory data retention regime.
The Australian Information Industry Association (AIIA), Australian Mobile Telephone Association (AMTA) and Communications Alliance have written to Government and relevant Shadow Ministers seeking assurance that the grants will be paid as soon as possible post-2 July.
It is more than a year since the data retention legislation passed into law and four months since the DRIGP funding round closed. CSPs are concerned by the delay in finalising arrangements and, in particular, the financial implications for their operations.
Some CSPs have not started to implement business changes in line with their data retention implementation plans (DRIPs). These service providers are delaying their journey toward compliance because they have no clarity about how much of the resulting expenditure will remain unfunded once grant funding is applied. This has implications for their ability to progress towards compliance and in some cases might mean that full compliance will not be achieved within the deadlines specified by Government.
Many other CSPs that have begun implementing compliance-related changes to their business – making those changes on the assumption that their grant funds would have been distributed to them by now. These providers find themselves commercially inconvenienced – and in some cases commercially imperilled – by the failure to finalise the grant arrangements. This ultimately may also impact their ability to meet compliance deadlines.
The industry associations have also requested clear assurance that, in the event that the delays in the execution of the DRIGP mean that some CSPs do not meet compliance deadlines, the Department will exercise appropriate regulatory restraint or forbearance while CSPs move toward compliance.

---
Comment Sought on Local Number Portability Code (DR C540:2016) and associated IT Specification Guidelines
The
Local Number Portability
Code sets out inter-Carrier/CSP operational procedures for the implementation of LNP processes.
The revisions made to the LNP Code and relevant IT Specification Guidelines are:

an update to the LNP Code to remove the requirement to reject a request where the FNN and account number don't match on a Category A or Category C port notification; and
where relevant, ensure that existing validation can continue to match FNN and account number to limit the change only to those that fail this validation. This ensures any IT and process change are minimised for Carriers/CSPs.
All account validation processes for PNV will remain as they are.
Copies of the draft Code and Guidelines are available from the Communications Alliance website at:
www.commsalliance.com.au/documents/public_comment
Public Comment period closes at 5:00pm (AEST) on Thursday 21 July 2016.

---
Review of Standards for customer cabling installation and cabling products
Communications Alliance is seeking comments from interested parties on the AS/CA S008:2010
Requirements for customer cabling products
and AS/CA S009:2013
Installation requirements for customer cabling (Wiring rules)
Standards. This review is a part of Communications Alliance's periodic review of its publications.
The review has highlighted a number of areas for particular attention including the fire rating of cables and the relationship to the ABCB National Construction Code (NCC), remote power cable ratings, fusion splicing, optical fibre safety, optical fibre cords and new sheath materials.
Comments are being sought by 14 July 2016. Further information can be found on the Documents under review webpage.

---
Review of Standards for PSTN Customer Equipment and Customer Access Equipment

Communications Alliance is seeking comments from interested parties on the AS/CA S002
Analogue interworking and non-interference requirements for Customer Equipment for connection to the PSTN
and AS/CA S003
Requirements for Customer Access Equipment for connection to a Telecommunications Network
Standards. This review is a part of Communications Alliance's periodic review of its publications
A Background Paper has been developed to provide further information on telephony services employing IP-based packet technologies and the Australian Government's Multi Technology Mix (MTM) policy for the nbn network and the medium-to-longer term relevance of these two Standards in managing the risks associated with the supply, connection and operation of customer equipment used for voice communications
Comments are being sought by 13 July 2016. Further information can be found on the Documents under review webpage.

---
ACOMMS 2016 - Book now - places filling fast!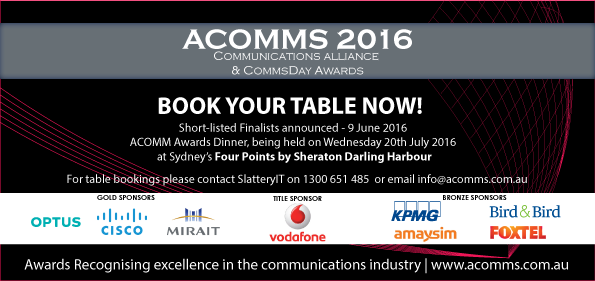 Book your table now! http://www.acomms.com.au/register.php
---
IoTAA Special Event
A Global Perspective on the Evolution of the Internet of Things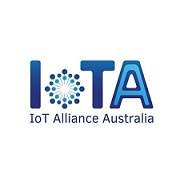 The Internet of Things Alliance Australia (IoTAA) invites you to a special event with Dr Alex Bazin – Vice President, Head of Internet of Things (IoT), within Fujitsu's Global Delivery organisation.

London-based Alex will share a global perspective on the evolution of the IoT, how a range of industries are using these technologies to drive business outcomes, examine the enablers and barriers for IoT adoption and the key success factors for companies and nations to derive its full potential.
A light lunch/networking opportunity will follow the presentation.

| | |
| --- | --- |
| When: | Wednesday, 20 July 2016, 11.00am – 1.00pm |
| Where: | UTS, Broadway Campus, Building 11, Level 00, Computer Lab 100 |
| Admission: | Free |
| Booking: | |