---
Vale Peter Rossi

Communications Alliance Directors, Management and Members were shocked and saddened to learn this week of the passing of well-known and respected industry player Peter Rossi.
Peter was a highly visible and dynamic presence in our sector; most recently as Cyber Security Officer and former Australian CTO of Huawei Australia.
Outspoken, passionate, knowledgeable and a gregarious global traveller, Peter lived for telco and was a highly effective advocate for not just his employer, but for our industry as a whole.
Peter was generous with his time and always eager to share his observations and knowledge. He was, among many other things, a valued and influential member of the Communications Alliance Operations Council and the Internet of Things Alliance Executive Council.
I personally will miss the man deeply – a slightly larger-than-life friend and colleague who helped me greatly during the past six years in particular.
Communications Alliance sends its heartfelt condolences to the family he leaves behind and joins with all those in our sector and beyond who are mourning the loss of Peter and will always remember him with warmth and admiration.

John Stanton

---
IoT Alliance Australia Expands as OAIC Comes Aboard

The Internet of Things Alliance Australia (IoTAA) has welcomed the Office of the Australian Information Commissioner (OAIC) as an observer.
The OAIC will be an observer on the Alliance's Executive Council (see attached membership list), which includes a broad swathe of leading global and Australian technology companies, communications network operators, Government agencies and regulators, scientific research organisations, consultants and industry associations representing more than 60,000 Australian companies.
The IoTAA was created in 2015 to be the leading Australian industry and government body shaping the regulatory and collaborative framework needed to harness for the Australian economy the opportunities that are being created by IoT.
Chair of the IoT Executive Council, John Stanton, said the OAIC would bring valuable expertise to the Alliance.
"The OAIC and the Australian Privacy Commissioner, are very important stakeholders to have on board, given the work we are doing to build privacy protections in this area."
The Alliance has created six workstreams, with more than 200 expert participants, working on issues including spectrum availability, Smart Cities, network resilience, fostering IoT start-ups, data sharing and privacy.
The workstreams include a significant project to work with the industry verticals, such as transport, food and agribusiness and water and resource management, that stand to enjoy some of the greatest benefits from IoT.

IoTAA Executive Council Members as at May 2016:
| | |
| --- | --- |
| Australian Communications and Media Authority (ACMA) | Hewlett Packard Enterprise |
| Australian Communications Consumer Action Network (ACCAN) | Huawei |
| Australian Competition and Consumer Commission (ACCC) | IBM |
| Australian Industry Group (AIG) | Intel |
| Australian Information Industry Association (AIIA) | Internet Australia |
| Australian Mobile Telecommunications Association (AMTA) | Knowledge Economy Institute (KEi) |
| Business Council of Australia (BCA) | KPMG |
| Communications Alliance | nbn |
| Creator Tech | Nokia |
| CSIRO | Office of the Australian Information Commissioner (OAIC) |
| Department of Communications and the Arts (DoCA) | Optus |
| Department of Prime Minister and Cabinet (PM&C) | Telstra |
| Ericsson | |
---
Joint CA / AMTA submission on Government Guidelines for the use of s313(3) to block websites

Communications Alliance and the Australian Mobile Telecommunications Association have provided a joint submission to the Department of Communications and the Arts on the Australian Government draft guidelines for the use of section 313(3) of the Telecommunications Act 1997 by government agencies for the lawful disruption of access to online services.
The submission recognises that overall the Guidelines contain a range of useful material for Government agencies that wish to use s313(3) for the purpose of blocking websites. However, the submission notes the Associations' continued concern that the material comes in the form of Guidelines rather than being included in the primary legislation itself.
The submission makes some additional points, for example it requests that:

A form of a gating process (i.e. approval by the respective portfolio Minister) be adopted for agencies that wish to use s313(3) to request website blocking;
The set of circumstances in which federal agencies are allowed to depart from the Guidelines be limited;
'Stop-pages' be always implemented, hosted and managed by the requesting agency and that they contain a dedicated contact (rather than generic contact details); and
Agencies are required to implement a speedy review and complaints process which is to be measured in minutes and hours rather than days (i.e. it may not follow established agency processes).
This submission followed the submissions on this matter that the Associations provided in August 2014 to the House of Representatives Standing Committee on Infrastructure and Communications, the statements given before the Committee's public hearing in March 2015, and the subsequent supplementary submission also provided in March 2015.

The full submission can be found here.

---
Comms Essentials – "5G is Looming"
Wednesday 15th June 2016
Background:
This Communications Alliance Comms Essentials seminar will focus on the evolution of 5G, its use cases in an omni-connected world, and the opportunities and challenges that come with it.
5G wireless networks support very large gains in capacity, allow connections for billions of devices and create a user experience characterised by fast speeds. Extremely low latency and response times enable unprecedented connectivity and automation in new sectors – 5G is being designed for massive industrial applications taking digitisation to the next level. The technology will create various new use cases and play an important role in the internet of things. The development pathway for 5G features many partnerships and collaborative efforts including public private partnerships which are all important to developing an understanding of 5G and its opportunities. Policy issues in relation to key 5G infrastructure are part of the picture and deserve early attention to ensure 5G can develop to its full potential.

Who should attend:
Communications Alliance members and other stakeholders

Program:
5G – Key to the Programmable World
Speaker: Mark Barnett, Head of Mobile Networks Oceania, Nokia
5G – Taking Digital Transformation to an Industrial Level
Speaker: Stephen Coffey, Mobile Broadband Engagement Practice Asia Pacific, Ericsson

5G Partnerships and Collaboration – Policy Implications
Speaker: Chris Althaus, Chief Executive Officer, Australian Mobile Telecommunications Association

Q&A
Facilitator: John Stanton, CEO, Communications Alliance
When: Wednesday, 15th June 2016, 9:30am to 12:00pm
Where: Sydney - Baker & McKenzie, Level 27, AMP Centre, 50 Bridge Street, Sydney
Melbourne – Baker & McKenzie, Level 19, 181 William Street, Melbourne is a video link to Sydney
Register: Here
---
ACOMMS 2016 - Book Your Table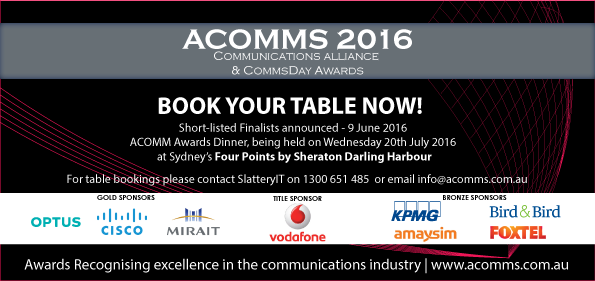 Book your table now! http://www.acomms.com.au/register.php