Events 2018
---
Satellite Next-Gen Focus
Monday 29 October 2018 Sydney
Hosted by


Background:
This Communications Alliance Satellite Services Working Group Event will focus on the on the benefits / opportunities that the progress and innovation of next generation of satellites is ushering in, ranging from LEO to GEO, from cubesats to high throughput satellites, and on technological advancements in areas such as hardware design, optical communications, launch platforms and propulsion.
Who should attend:
Communications Alliance members and satellite industry stakeholders. Please note that seats are limited and will be allocated on a first come first served basis.
The Future of Australian Satellite Services - Speaker: Andrew Kerans, Spectrum Management Associates
European Harmonised Approach to Satellite Licensing - Speaker: Tony Azzarelli, OneWeb
Standards-Based Integration of Satellite and Terrestrial Networks - Speaker: Glen Tindall, SES
Satellite Communications - The Broader Canvas - Speaker: Bob Horton, EMEA Satellite Operator's Association
Q&A - Facilitator: John Stanton, CEO, Communications Alliance
| | |
| --- | --- |
| When: | Monday, 29 October 2018, 2:00pm to 5:00pm |
| Where: | ACMA, 5/65 Pirrama Rd, Sydney |
| Cost: | Communications Alliance Members and Satellite Industry Stakeholders - No charge |
---
Comms Essentials – Space and Satellite
Wednesday 26 September 2018 Sydney
Wednesday 26 September 2018 Melbourne
Hosted by

Background:
This Communications Alliance Comms Essentials seminar will focus on developments in the space and satellite sectors and their interaction with the broader telecommunications and next-gen service environment.
The seminar will provide insights into the early progress, work program and international orientation of the newly founded Australian Space Agency. It will also consider the challenges of managing spectrum, domestically and internationally, that come with increasing growth and innovation in the provision of satellite service and the use of those services in space sciences. We will also hear from Boeing about the challenges and opportunities in Australia for a global player in the aerospace and defence arena.
Who should attend:
Communications Alliance members and other stakeholders.
The Australian Space Agency - Speaker: Dr Megan Clark AC, Head of the Australian Space Agency
Spectrum Management Challenges and Outlook - Speaker: James Cameron, Authority Member, Australian Communications and Media Authority (ACMA)
Boeing Australia: Challenges and Opportunities - Speaker: Michael deLaChapelle, Senior Technical Fellow, Defence, Space & Security, Boeing
Q&A - Facilitator: John Stanton, CEO, Communications Alliance

When:
Wednesday, 26 September 2018, 9:30am to 11:30am
Where:

SYDNEY - Baker McKenzie, Level 46, Tower One, Barangaroo, Sydney
and via video link
MELBOURNE – Baker McKenzie, Level 19, 181 William Street

Cost:

Communications Alliance Members - No charge

---
ACOMM AWARDS 2018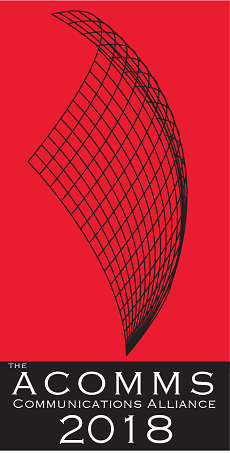 The ACOMMS – the telecommunications sector's annual Industry Awards – are the moment that our industry comes together to celebrate and recognise excellence. Now in their twelfth year, the nationally recognised and highly-coveted ACOMMS will be awarded in 2018 on the evening of 29 August 2018 at the stunning Hyatt Regency in Sydney.

Visit the 2017 ACOMMS photo gallery here and highlights video here. And see the 2017 winners here.

Nominations for the 2018 ACOMM Awards are now closed!
The telecommunications sector's annual Industry Awards – The ACOMMS - recognise excellence in the wider communications ecosystem, rewarding and profiling companies which have excelled within the industry around the nation, regardless of size, location, and whether service providers, vendors, or suppliers of professional services.
- Award Nominations Close: Friday 11 May 2018

Celebrate your achievements with your industry - nominate for the 2018 ACOMM Awards! There is no charge to nominate. Nominate here

Sponsorship Opportunities for 2019
ACOMMS is a sell-out event with over 450 senior industry people attending. Sponsoring the ACOMMS provides a unique opportunity for brand positioning. As a sponsor, you will have your organisation highlighted in front of some of the most influential professionals and decision-makers in the Telco industry. Please contact Rebecca Nasato on +61 3 9663 3093 or email info@acomms.com.au to discuss sponsorship opportunities at the ACOMM Awards 2019.
ACOMMS 2018 Photo Galley